"80% Mindset 20% Skills", a Book that could change your life.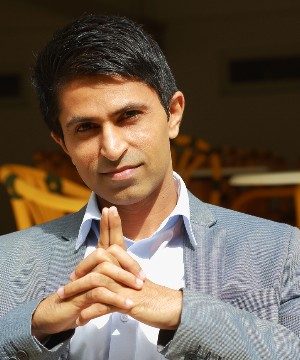 Humble Background
Dev Gadhvi was born in a lower middle-class family, father a truck driver, mother a housemaker, an elder brother and grandparents. Dev lived in a small town called Adipur (Kutch, Gujarat – India). Neither of his parents went to school.
Dev grew up in a small house with cement sheets as the rooftop. It was a corner house which was surrounded by people who were drunk, jobless, and good for nothing. Summer afternoons were so hot and having no air-conditioning or coolers, Dev had his own ways of keeping himself cool. He used to wet thin blankets and put them on himself to enjoy a cool afternoon nap. That was his homemade air-conditioner.
Protective Mother
No matter how bad the surroundings were, his mom protected both kids from not getting spoiled. She was very particular in not letting them play will other kids who used abusing language and were very shabby. Their life was between school, tuition, and home. It was only when they were grown up to understand the difference between good and bad, she allowed them to play cricket with neighbourhood kids.
Obsessed with English Medium
When his mother was young, she would work as a nanny/caretaker at some rich people's houses. She would see their children wearing nice uniforms and going to good schools. She became obsessed with her dream of making her children study in a good English medium school since then. It took her a long time to convince his father, but finally, he had to heed to her request and she made it happen. She managed everything and Dev still recollects that his dad never visited his school nor was aware which school it was. The boys are grateful to their parents today.
Proud Son
Dev says no matter where his mother came from but she is the biggest weapon he can ever possess. Look at the simplicity of his mother in the video at the bottom, when her successful son Dev interviewed her.
Career Path.
Hello, I am...
This rings a bell? Call center it is. His career began at a domestic call center where his opening greeting line use to be "Namaskar, hoon Dev tamari kevireetesahayatakarisakoon" (Hi, this is Dev here, how can I help you?). He feels that it was a killer greeting line! JEE.
When Dev decided to move from the Gujarati world (Domestic BPO) to the English World (International BPO) lots of people told him not to take the risk because they hire and fire fast. He still took a risk despite having the wonderful Gujju accent and terrible English grammar. Thanks to that risk which helped his English and accent improve.
LOL
During training days, his colleagues would be in splits because of his Gujju accent and pronunciations. They would make fun when he said "JEE" Tv for "Zee" tv, "Snacks" sounding like "Snakes". Grammatical errors like – 'He say', 'I didn't went,' and picked on never ending mistakes.
Come out Stronger
Thanks to his bad communications skills, he got himself a seven-week of On-Job-Training (OJT) instead of the usual three weeks and this after completing the usual one-month classroom training. He probably holds the record for highest number of weeks spent in an OJT in Wipro – FUN Ha J
Within a year and a half, he was training others in OJT to excel at customer service and up-selling, that is when his natural passion to help others surfaced and realized that he simply loved to be with people and make them better at their jobs.
Life changing moments
Oracle days were the most important days in Dev's career as it taught him the ABCs of sales through different sales training and methodologies like Sandlers, Costigan, Emotional Intelligence etc.
He lived with an average mindset for more than 33 years. Just going to the office, living 9 to 5 life, until he got a break-through from his mediocre thought process when he started watching some videos and read Grant Cardone' books.
His life literally changed since then. He spent thousands of hours studying about the millionaires and billionaires. He started interviewing the millionaires like Dan Lok, Patrick Bet-David, Evan Carmichael and others.
Making a difference
He learned the tricks of the trade and now was fully equipped to start a community called CareNation that aims to help others. He made a lot of inspirational videos helping street vendors by buying all their goods at one go!
He realized that becoming extraordinary isn't difficult. All you need to do is follow what all the successful people say and you will also have the similar level of success if not more!
Enhancing Skills.
Dev believes in Jim Rohn's saying "Formal Education Will Make You Good Living But Self-Education with Make You a Fortune"
Just in 2 years, he spent more than Rs. 12 Lakh on self-development, learning critical skills like Sales, Social Media Marketing, Affiliate Marketing, High Ticket Sales, Publishing Book and more.
He enrolled himself in mentorship and training programs with people like Grant Cardone, Dan Lok, John Pemberthy and others.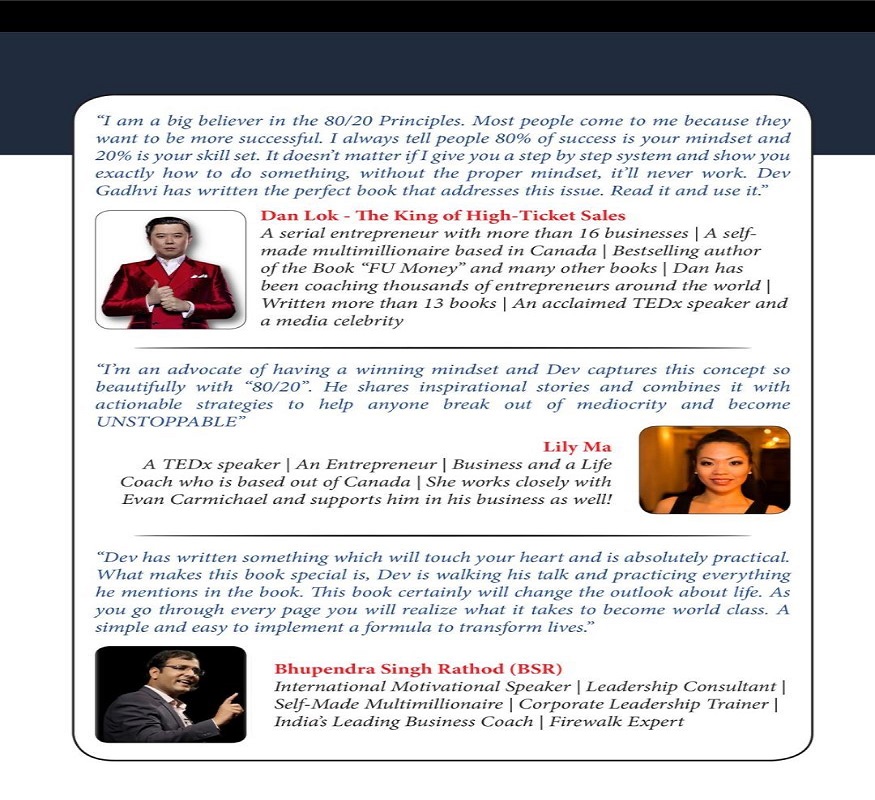 Birth of the Book
Dev has taken a long time to work on his first Book and the launch of his book 80%Mindset 20% Skills is scheduled on 25th February 2018 and it guarantees to change millions of lives. It has already received great reviews from Millionaires like Dan Lok, who is a serial entrepreneur with more than 16 businesses, Media Celebrity, Acclaimed TEDx speaker, Author of "FU Money". The much-awaited motivational and inspiring book can be picked up in advance from Dev at dev.gadhvi82@gmail.com or on 9819526252, and after the launch from Amazon.in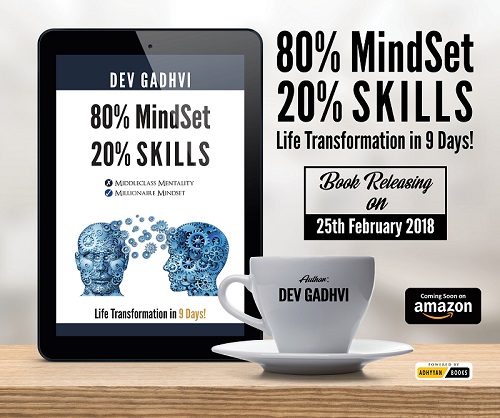 Biggest Regret
It took him 13 long years to realize that mediocre thinking was nothing but an absolute waste of time. Dev's mission is to inspire, empower and transform millions of people who are caught up in the mediocre style of thinking. He wants people to change their path and explore the purpose of "Passion".
Education
It needs to be revolutionized and the time will soon come where the syllabus will include subjects like How to build business with 0 investment, How to find passion and convert that into a business, How to build multiple streams of income, How to build passive sources of income, etc
Are you inspired?
If Dev with his humble background, Gujju accent, Butler English, job rejections can today be an International Keynote speaker and a Coach, become part of top 6% earners, transform thousands then there is no excuse for anyone to complain or whine and its time to change for the better.
Watch The Video Now To KNOW -- Who is Dev Gadhvi - Why He Cares For Others? - About Dev Gadhvi