Bamboo water Bottle – A perfect Gift. A perfect way to Rid Plastic.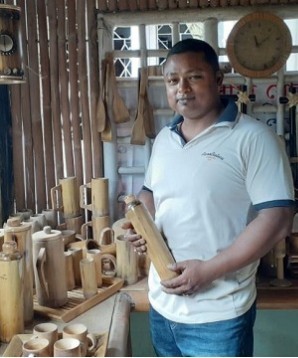 Perfect Gift...
Your search for a perfect gift ends here...A gift for all ages and all occasions. A Bamboo water Bottle invented by this entrepreneur Dhritiman Borah from Guhawati is a perfect replacement for plastic.
Where did it begin?
In 2001, Dhritiman just after school started selling Bamboo furniture for a factory. After a while, he thought "Can I do something with Bamboo to replace plastic ? This is when he started his Bamboo mugs/glasses and slowly the idea of water Bottle struck which was just a year and a half ago in 2018. Bamboo Bottle? What a super idea was the people's response to his innovation. Now he has plunged into manufacturing full time.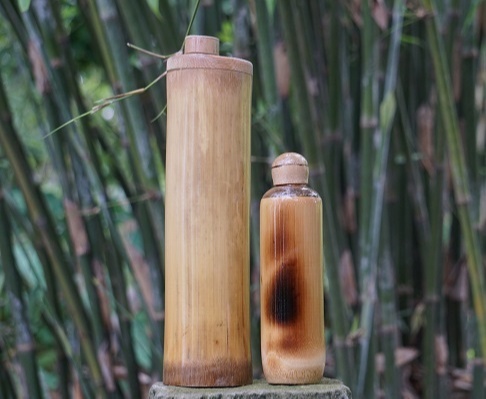 Under the umbrella of DB Industries, Dhritiman Borah personally supervises the complete process from start to finish for quality purposes. It takes at least 4-5 hours in making one bottle that involves cutting, boiling, drying, smoking, joining and finishing. He claims that each bottle is 60% hand-made. It's just the beginning and his vision is to replace the plastic industry with Bamboo, Wood, and Jute that is eco-friendly.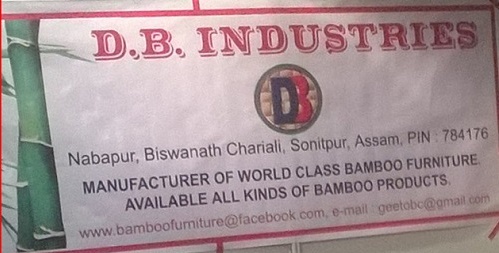 Organic Bamboo Bottle...
Prices range from just Rs 200-500.....Aren't we paying a heavier price by destroying our only planet? Think-not and just pick up one. Leak-proof it is, with a glossy oil polish and even the Dhakkan (cap) is also made of Bamboo. It comes in 350ml, 750ml, and 1 Litre bottles and is easy and light to carry. The water stays Thanda and fresh all day long come rain or sunshine. With time the prices are expected to reduce.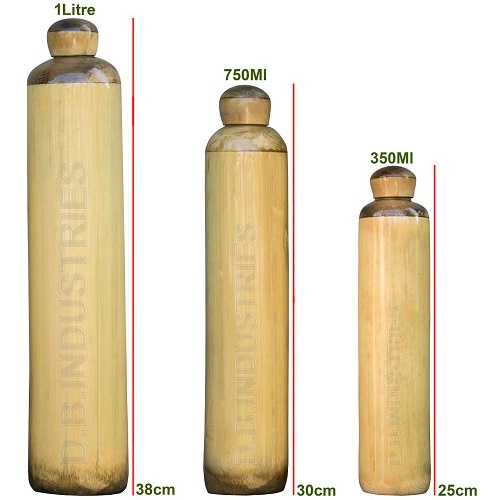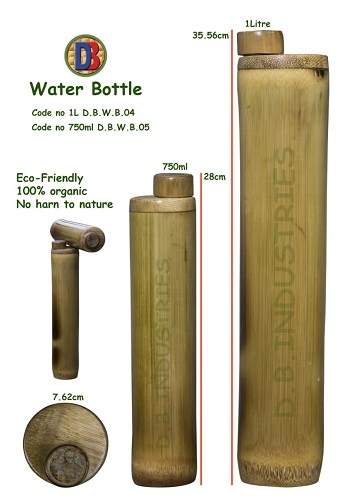 Each Bamboo Bottle comes with a unique design because Bamboo itself comes in different shapes and sizes. Design your own bottle concept for corporates with logos etc., is also available with DB Industries.
Easy Maintenance
Once a week, a gentle brush inside will do. Bottle to be kept dry when not in use. Water must be changed after 36 hours.
Money, Money, Money?
So far Dhritiman has been managing with his small money from family and friends. Ever since the social media videos and articles went viral, his phone rings non stop with inquiries and orders. (He admits he never expected nor was he prepared). Just cannot take orders when cannot fulfill them. Funding is the way forward for this young man who is keen on expanding the plant, machinery, manpower, etc., Anyone interested ???
Future vision
DB Industries product list ranges from furniture, kitchen tools, garden tools, packaging boxes, crockery etc., and now the focus is on some new items like Rice cookers & Umbrellas. Dhritiman Borah concludes "I am happy that people are getting more and more conscious of using eco-friendly items and together we can 100% RID PLASTIC"
Get in Touch with the Bamboo MAN.

dbindustries5@gmail.com

dbindustries2001

DB Industries

Click Here to BUY Bamboo Water Bottles
More Products