How the pandemic changed my life
How the pandemic changed my life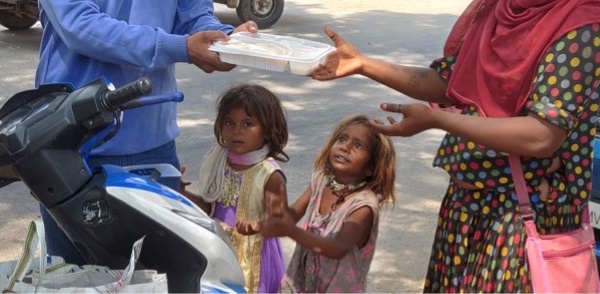 COVID-19 left several people dead across the Globe but the indirect victims of the pandemic were those affected by the long lockdown
On 24th March 2020, Indian Prime Minister Modi ordered a nationwide lockdown for 21 days starting 25th March until 14th April, limiting movement of the entire 1.4 billion population of India as a preventive measure against the COVID-19 pandemic. The lockdown was announced, after the number of confirmed positive coronavirus cases in India crossed 500. On the day lockdown was supposed to end, Prime Minister Modi announced an extension until 3rd May, owing to the rising number of cases in the country. On 1st May, the lockdown was further extended by two more weeks until 17th May. In short the country was shutdown for 54 days at a stretch.
It also meant lack of income and livelihood for majority of people, in a country where more than 90% of the earning population works in the unorganised sector. As per a survey conducted in 2010 by National Sample Survey Organisation (NSSO), total employment in the country was of 465 million comprising around 28 million workers in the organised sector and the balance 437 million workers in the unorganised sector with a whopping 67% of them (290 million) working in non agriculture sector, perhaps the highest in the world.
Loss of daily income and livelihood was a serious concern to a large percentage of people engaged in unorganised sector, that already led a hand to mouth existence. This also meant going hungry after few days of lockdown, unless Government acted fast and ensured free ration supply to the affected. With such a large population getting affected, the Government had to rely on NGOs to support the gigantic effort – to keep HUNGER away from the vulnerable population especially young children, expectant mothers and senior citizens.
For the initial few days, I took great pride in reading about NGOs operating out of Bangalore, supporting the poor and needy with food packets and groceries. Come lockdown 2.0 (post 14th April), I thought I should be doing something directly to help and support the under-served community consisting of migrant labourers, transgenders, homeless senior citizens, children in orphanage homes, physically challenged, daily wage earners (coolies etc.), street-side artisans, pourakarmikas (sanitation staff), auto drivers etc.
No doubt there was lot of opposition from my family members especially my parents living in Mumbai, who feared for my safety and well being. Since it was a known fact that seniors above 60 were more vulnerable to the virus, most of my fellow apartment dwellers belonging to this age group, were extremely skeptical of my plan. Yet I decided to throw caution to the winds and agreed to volunteer for a NGO - Happy World Foundation. Though the primary objective of this NGO is related to Environment and Climate Action, it had jumped into the fray like other NGOs, to help the needy with food packets and grocery kits.
But just before this, on 1st April I got a sudden call from an old friend whose father was admitted to HCG Cancer Hospital battling for his life - requiring blood transfusion on emergency basis. Though I forgot the last time I donated blood, I could not say no to the request. At the time, movement of vehicles was strictly prohibited and I was provided with a special pass by the Hospital authorities to ensure smooth drive to the Hospital and back. Armed with the Pass I made it to the Hospital in less than 10 minutes, which otherwise would take not less than 30 minutes, given it's location in one of the busiest areas of Bangalore. Later I realised that the friend was seeking support for other needy patients, who were in desperate need of blood, at a time when blood supply to the Hospital had thinned down thanks to the lockdown. This encouraged me to start a Facebook and WhatsApp campaign to support these patients and I felt so happy to receive positive response from most of the people, who had read my message or post. Five of them were volunteers from the NGO - Happy World Foundation. The Certificate I received from HCG, post successful blood donation, will be treasured forever and more so for the timing than the actual deed.
Now this incident gave me the necessary courage to jump into the "Joy of Giving" bandwagon and thus made my debut on Sunday 19th April 2020, for a Food packets distribution drive at couple of slum areas in Bangalore. The decision was also prompted by the fact that the "anna-daana seva" drive (feeding the needy) was being done on behalf of a generous donor, celebrating his father's 80th Birthday. In Indian culture, feeding the needy is considered the most pious act in a person's life. Hunger and poverty is not a curse but it's an accident like the COVID19 induced lockout and we can at best provide succour to the poor and needy, through this noble service.
The first stop at a slum area brought me in contact with a set of migrant community hailing from a remote part of India. These people sell balloons and toys for children at traffic signals. No traffic lights in operation since 25th March, meant no income for this family of about 20 people, most of them being young children and expectant mothers. I could not bear to see the sight of these young children, who had gone hungry since the previous night. The parents were desperately seeking support from NGOs as no Government agency bothered to support this family of migrants, who perhaps possesed no ration card or not belonging to a particular vote bank. The "anna-daana seva" for this community was the most fulfilling one for me, as if the food they ate satiated my hunger. The feeling can never be described in words.
The next volunteering drive was scheduled on 23rd April, at a slum in a crowded business area of Bangalore, inhabited by about 50 odd families. Here we planned to distribute grocery kits consisting of basic necessities to keep the kitchen fires burning. One of the ladies living in the slum, who was social media savvy, had posted her video on Facebook appealing for support. And this drive was in response to her appeal for help. Out of curiosity I wanted to check their living conditions before the distribution process started. The lady on FB invited me to check her modest dwelling unit and to my surprise it was about 50 square feet in area (6 feet by 8 feet) which had a small living room that combined as a bedroom and a small kitchen. More surprise in store for me, when the lady mentioned to me, that the house accommodates 5 people – she, her spouse and 3 children. A well built person like me, who had difficulty in even entering the house could accommodate 5 people !!! Coming back home after the volunteering drive, I realised how fortunate we are to live in spacious homes with not less than 2 toilets, while the entire community living in the slum, perhaps share 2 toilets among 200+ people. At the end of the day, the smile on the lady's face and 49 other families after receiving the grocery kits, could not be measured even with gold. This inspired me to do something more.
While returning home from the above-mentioned volunteering drive, I came across a community of migrant artisans making and selling bamboo and cane products on the road side. On enquiring I came to know that these people, belonging to rural parts of North Karnataka Stare, were struggling to keep their kitchen fires burning since not a single sale had happened for almost a month. On 25th April, grocery kits were distributed to about 30 families living on the street-side. On the same day a group of auto rickshaw drivers numbering about 20 were also given the grocery kits. The auto drivers were also affected by the lockdown, since they earned no income once lockdown came into effect.
On Sunday 26th April, the second part of "anna-daana seva" drive (feeding the needy) was planned. This time it was done at a different location where around 50 people were waiting to be served. This was one drive I was not too happy about since the queue was already formed by men looking strong and robust. Many senior citizens and ladies were not allowed to stand in the queue but our volunteers intervened to ensure they got their share. Just after we completed the distribution of food packets, a group of men from apparently wealthy family, pitched their tent and started distributing food brought in a huge van. The same men who had received food packets from us, were seen queuing up again. It seemed as if they wanted to live like a camel and store up all the food they can, to ensure they do not go hungry for few more days.
On the same day, I got a call from a well wisher associated with a reputed NGO to support a family of 4, who were new to the city and were in desperate need of support. The matriarch of this family named Fathima begum started narrating her tale of woes, that started with a journey to Bangalore from Gulbarga in North Karnataka just few days before lockdown was clamped. The contractor, who had invited them for work, had absconded leaving them stranded in an unfamiliar city, with no income and no food to eat. I was having few extra grocery kits in my car, which was promptly handed over to the lady. She had tears in her eyes after receiving the kit and perhaps those were tears of joy and gratitude.
On Monday 27th April, we got a call from an Orphanage and Old Age Home located near Hebbal to help them with specific grocery items required for the inmates. It was a divine experience to meet the 80 year old Founder and also seek blessings from the senior citizens, abandoned by their families. The office bearers were happy that their request was fulfilled on time, since they were extremely challenged in procuring groceries and food items from outside, due to lockdown.
By now I was a veteran in the art of volunteering and had even come up with the Standard Operating Procedure (SOP) to ensure the drives are smooth. One of the things we ensured was to handover the tokens a day in advance to be exchanged for grocery kits on the D-day (distribution day). This helped us a lot in curbing unwanted people from gate crashing and demanding their share of the kit. This also ensured less chaos and better discipline. The recipients were also requested to wear a face mask or a cloth around their face and to maintain social distancing (to stand atleast 1 metre away from the next person in the queue) on the D-day. A megaphone was deployed to make announcements, while the distribution process was on.
I was part of 3 more volunteering drives and each time the volume of grocery kits distributed, kept increasing. It was also a conscious decision to stop donating food packets since it offered temporary relief whereas grocery kits could take care of atleast 2 weeks of ration, that a family of 5 members would need. Each grocery kit contained 5 kgs of rice, 1 kg each of tur dal (cereals), green gram, chickpeas, wheat flour or millet flour, one cake each of bathing and washing soap, 1 liter cooking oil, a packet of sambar powder, sanitary pad and a face mask. Specific care was taken to customize certain grocery items consumed only by the North Indian migrant community.
From all the volunteering drives these are the common traits observed by me:
Whenever groceries were distributed, more ladies than men stood in queue to collect the kit from us (one per family)
Whenever food packets were distributed, it was the other way round – more men in the queue than women. In fact I even observed some men pushing the ladies away from the queue so that they do not miss their lunch packet
Each family living in the slum had no less than 3 children. If they lived with their aged parents the minimum size of the family is not less than 7 members. Most of them lived in dwelling units not more than 100 sft in size.
Though the slum houses people belonging to different communities - speaking different languages yet they shared the same woes. The long lockdown had affected their daily income and were finding it tough to sustain their daily livelihood.
This is somewhat strange but I felt that the appeal for support was almost always made by women than men. And the appeals were made with lot of conviction while striking a very confident pose.
However the same people had trouble expressing their gratitude, often finding themselves at a loss for words. It could be that their joy or happiness overrides their expression in spoken words.
When the Government announced opening of wine stores, the ladies felt it was a wrong move at a time when their basic needs were not met while the men folk would dry up their meagre savings to quench their thirst.
About the Author:
Arvind Kamath is the Managing Trustee of Sharada Educational Trust. He is extremely passionate about working for the upliftment of our rural economy and he feels this is possible only through education of rural kids and empowering the rural women. He can be reached on arvind@sharadatrust.org