FARMER'S DAUGHTER CAPTAINS THE INDIAN WOMEN'S KABBADI TEAM.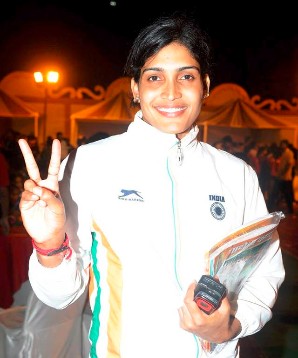 Mamata hails from Hermunde, a small village in Udipi District, Mangaluru in Karnataka. A village child's life is hard with a lot of physical work, walking almost 5 to 6 kms each day to reach school. Her father Boja Poojary and mother Kitti could barely afford to educate her, but they were determined to do so.
In School.
At school she took part in shot-put and javelin throws and also played all games including volleyball, throw ball and Kho-Kho. She was good at any game she played as she was physically strong. Her parents were reluctant to allow her to take up sports as their daughter had to wear shorts or tracks to practice. She continued her passion and practiced in salwars. She was in the volleyball team in school and played for Mangaluru district as well.
Kabbadi happened by chance in 2003.
Short of a player for a college team, the coach thought she could just join in. She was disappointed to sit on the bench for a initial few games. When she got a chance to play, she gave her best and surprised her coach with her techniques and her team spirit. After a few games, she was in the regular team. She definitely had the skill and probably was cut out for this game. She was part of the College team till she finished her graduation.
A capable Captain
In just about 3 years, she was in the state and national teams. Under her efficient captaincy, she has practically won every tournament. In 2007 clinched the Gold at the Asian Games in Iran, In 2010 won Gold at Asian Games in China and at the Asian Beach Games in Indonesia and Oman. In 2012 won the World Cup. She has more than a dozen golds in her kitty. The best thing that could have happened to this male-dominated game, is the Women's Kabbadi League. She currently captains the Fire Birds. After a long, long time the women's kabbadi is gaining popularity and getting recognition. Many upcoming captains surely can a leaf out of her book.
A sustainable Job
Mamata and her parents were more than relieved when she landed a plum job at the Southern Railways as this put a lot of issues to rest. She said she didn't have to worry about a regular income and could concentrate on the Sport.
Awards poured in.
Karnataka awarded her with Rajyotsava Prashasti award and the most prestigious one was Arjuna Award in 2014. She is more than thrilled that all that hard work was noticed and appreciated through these awards.
She has led the way.
Now that she has led the way, many girls are coming forward to take up Kabaddi. Her hometown people who mocked at her earlier, now applaud and greet with respect.
Wedding Bells in 2014
Her parents who were worried about her marriage prospects because of their girl taking up kabbadi are relieved to see her married to Abhishek Kotian a software Engineer.
Bookofachievers.com salutes this Champ and wishes her well.