Lucknow girl slams patriarchy with her artwork. Her Instagram handle sets your mind on fire.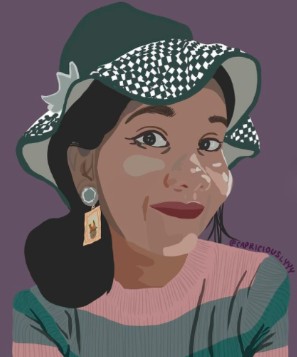 Patriarchal notions irritate everyone. Be it men or women, young or old, patriarchy is sure to cause discomfort to anyone. But, when such notions are opposed, people fear being criticised and fear negative actions against them. Patriarchal rules, though are intolerant most of the times, are silently borne just in the name of following century-old rituals. Somewhere someone questions these notions and don't even ask how many people start firing their words on them. Still, the people who question don't step back. They keep questioning though they are tormented. Their main aim is to bring about a change in at least one in a million. The change in mindsets can be brought about only by speaking out one's mind. Questioning or challenging can be done in any way not necessarily through words. That's what Saumya Gupta does through her art. This bold artist uses lines, strokes, curves and colours in her art to raise objections on patriarchal beliefs. Just walk through her Instagram page and especially girls! You feel like as if someone has painted your inner voice.
The Background Of The Bold Girl:
Saumya Gupta was born and raised in Lucknow, Uttar Pradesh. She was brought up in a family that absolutely had no gender differences attributed to the family members. There's nothing that men won't do and there's nothing that women don't handle. Saumya grew up watching her dad picking her up from school while her mother dropped. Both of her parents cooked and everything in the house was normalised and the growing up child observed all these. She was thus brought up in an environment that's in a way different from what is usually found in other families of the country. But Saumya came across such experiences in the words of vsr friends and colleagues. "As I grew up, my friends, colleagues narrated to me experiences which I never could have even thought. These narrations grew in my mind. They were shocking.", she said. She then understood that these experiences are faced by majority of the people everyday and thus directed her interest in art work to depict all these, with a sole interest to bring about a change in whatever little way she could.
Inclination For Art:
When Saumya Gupta was a kid, she exhibited interest towards drawing. It was her favourite pastime. Her mother encouraged Saumya making her believe that she can draw really well. Saumya also displayed her love for art so much that she hated other subjects like math. She took up paper and brush and started to draw and paint. Eventually, she was introduced to the digital world where Adobe Software caught her attention. Slowly Procreate and other digital drawing media came in, taking her passion to the next level. She started to use digital art to express her thoughts, emotions, ideas and messages. "I started with random lines just playing along which then grew into making portraits. Slowly I came across Procreate and other digital drawing mediums, and then I started putting my ideas, thoughts, or message into art.", she said. This graduate in Botany thus started her journey into the world of art and social media is all hers.
When Art Speaks:
Conveying a message about using bio-degradable sanitary napkins at the time of menstruation, her post on Instagram is sure to drive every girl towards sustainable living.
The way she artistically presented her mind in conveying a beautiful message is sure to attract anyone. In another artwork she posted on her social media, a girl is seen talking about being comfortable over the hair on the skin. The art, that's titled as "WISPS OF HAIR", questions that if the hair on a girl's head is beautiful, why not the one on her skin? It lashes the widely practised habit of girls shaving the hair on the skin and throws the WHY question.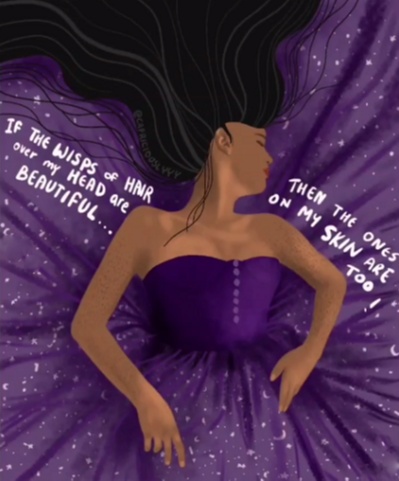 She goes on to explain how those men who continuously stare at women must be tackled in her another artwork. Along with using her artwork to fight patriarchy and other issues, Saumya loves embracing traditional Indian art and craft forms like gond art, seashell craft, pattachitra and more. "I adore and am proud of how our country is like a cultural and artistic wonder. I want people to know about these beautiful art forms because today if we don't save them, they'll die. We will lose our whole legacy. I never want that to happen.", she mentions. She did good two-month research to give these art forms, the shape of beautiful illustrations. "It was difficult to get the facts right about the crafts, specialties, and their unqieness. It was a tough and tedious process but that's what I love about an artwork when its roots are this strong!", she narrated her experience.
Thwacks From The Haters:
Is this not expected? When you are challenging patriarchy, you are sure not to be loved and appreciated for your talent. Crowd throws harsh words at you like pots and pans. Well, Saumya got those pots and pans several times. But this firm young lady didn't wither. She was always open to constructive criticism. She would rather take it to improve herself. But if she understood that the criticism is a troll from a hater who wants to put her down, then her ears are busy. Talking about how she responds to a troll, she says, "If it's a Troll or a Hater, I generally don't respond until very necessary, because a troll wants you to lash back, it's a psychological trap. They want you to hit them back with comments or something, but what really happens? You probably waste your time, and that too for what, fighting with a stranger online?" Saumya recollects the worst situation she had to face during the lockdown. Her own classmates and people from her own college bashed her work publicly. "It's sad and funny at the same time, but yeah, I gave no response when all the trolling was happening. It does pinch you a lot reading negative things but I try to handle it calmly. In the end, it just makes you a more mature person because there are many people in the world, and not everybody is going to agree with you. sometimes they won't, and it's okay."
A 'Creative' Advice:
Saumya Gupta, who draws her inspiration from the fellow artists says that creative block is a big challenge for those in the field of arts. She says that instead of thinking and dealing about the Creative Block, she goes around doing other activities like spending time with her sibling, gardening and some cleaning. She advises those who would like to step into the field of digital illustration to not to lose hope when their artwork doesn't come out well. "Keep learning, the know-it-all ego is very very bad. Never fear trying new software or a style. Always remember, it doesn't matter you've got the latest iPad Pro or a Wacom or you draw with a normal mouse, you can do it!", she concludes.
All you need is some positivity, a cup of determination, spoonful of courage and whole lot of passion - then you are a Pro.

Follow Her Work