An new interesting approach to teach and learn English language at Govt schools. seems successful.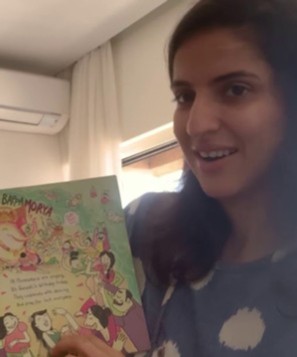 English education is the need of the hour. Proficiency in the English language is a must these days to attain a good job and lead a better life. Good understanding of the English language and being able to decently communicate in English is something that almost every job requires these days. To be able to at least comprehend the official documents at your workplace which are majorly drafted in English is something that's expected of every individual who seeks a good job. To climb up the academic ladder or the professional ladder, knowledge of English language is considered vital. This is the main reason why parents don't usually enrol their kids in government schools rather preferring private English medium schools.
While the government launched Sarva Shiksha Abhiyan in 2001, hardly any government school has started giving its students quality English language training to date. One of the reasons for this could be lack of funds to hire proficient teachers. This root problem was noticed by Radha Goenka, a graduate from the University of Pennsylvania, US. She decided that she will be doing something about the education system back in India, especially English education. Read further to know what she has done to change the face of rote English language teaching and learning.
Higher Education Triggered Her Thinking About Education In India:
Radha Goenka pursued her higher education from the University of Pennsylvania, US. Her education there allowed her to think of the education system back in India. Having experienced the fruits of the lively and creative education system, she understood the value of quality and promising education and she wanted to implement it in India replacing the rote method of learning, especially the English language. She took a closer look at the problems the Indian education sector is facing. "I was sure that education was the space I wanted to be in. I was privileged enough not to have to think about my bread and butter. So, in 2005, I started exploring Worli, Mumbai and the surrounding community to really understand the education space," she said. After she noticed what the potential problems are and why parents are choosing private schools over government schools and why the government is unable to provide quality English language education, she entered the field to contribute her part.
To Inculcate Promising English Language Skills:
In the year 2008, Radha launched Mumbai-based Pehlay Akshar Foundation which is schooling and training programme whose main aim is to improve functional English language proficiency among children studying in government schools.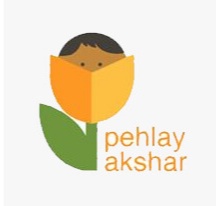 "I fundamentally believe that people know best. And the fact that they wanted to learn English is something I back because I think the English language is an enabler. Today, 90 per cent of the content on the internet is in English. Studies have also shown that employees who know English earn a higher salary than those who don't," she says. Despite Sarva Shiksha Abhiyan and the midday meal program, it is the lack of funding to employ professional and proficient teachers that are keeping the government school education behind that of private English medium schools - she noticed.
Creative Thinking And Natural Learning Are The Keys:
With the main aim to provide quality English education not compromising on creative thinking and freestyle learning, Radha's Pehlay Akshar Foundation partnered with more than 2,000 government schools and implemented its Pehlay Akshar (meaning the first step) programme to implement its uniquely designed curriculum. This programme was started under RPG Foundation where Radha serves as the Director. It was launched as an independent NGO in 2019 but is still funded by the RPG Foundation that implements the CSR activities of RPG Enterprises. With the unique curriculum of this programme, many government school students have benefitted and as of September 2019, the foundation has touched close to 227,465 students, some of whom were graduated and joined the foundation as teachers.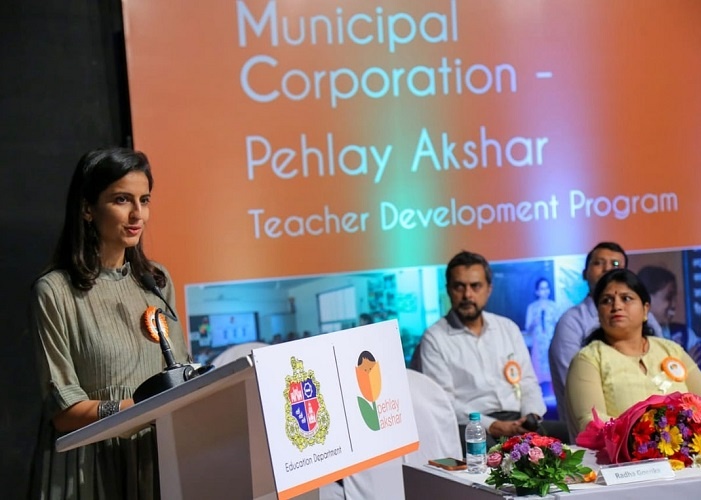 As Natural As Learning the Mother Tongue:
Building creative and quality learning spaces began by training teachers. More than 5,000 teachers are associated with the organisation and an additional 6,000 are currently being trained in partnership with the Brihanmumbai Municipal Corporation (BMC). Radha says that the way English is being taught in most Indian schools was based on the British way of teaching which is full of rules and nomenclature, filled with explanations of an adverb, verb, adjective etc. which are not really important to converse in English. So, they have devised a curriculum based on international English as a second language (ESL) standard combined with infusing curiosity and love for language learning among students. She says that the main idea is to bring up children who question with curiosity. With a team of more than 5000 teachers, they are trying to create a learning experience similar to how a child masters their mother tongue. A safe learning atmosphere is created where students are not judged but are constantly appreciated and motivated.
Request from Government Schools:
Radha's team received requests from government schools to aid them in teaching the state and national board-mandated English lessons. Owing to covid lockdown, the Pehlay Akshar Foundation started teaching online and also initiated a new programme called A Story a Day, that allows anyone to participate by reading children's storybooks. Bollywood actor Sonakshi Sinha read a book titled The New Girl as a part of this programme. To those with no internet access, Radha is currently in talks with Doordarshan to telecast the popular storytelling sessions.
Kudos to the young lady, who understood the loopholes in the Indian education system and without cribbing about them like most of the people do, started to fill those gaps thereby gifting better learning experiences to the students of government schools.

Know More About Pehlay Akshar Foundation

Like and Subscribe Pehlay Akshar Channel