Meet the Vizag teenager who is creating ripples in the music world. setting the Indian Idol stage on fire.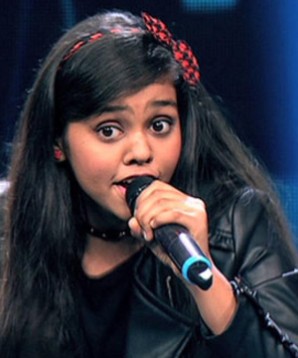 When she was four years old, she stepped into the world of music. She could not even utter the words of the language clearly but her voice mesmerized everyone around her and whoever heard her singing, closed their eyes and dived into an enchanting world. Her tender vocal chords vibrated to produce the magic that filled the hearts of the listeners. When in her first music reality show, the singing legend Vani Jairam challenged her to provide "swaras" to the "raaga" she rendered; the little girl not only accepted the challenge but also astonished the big heads lined up in the front row that remained wide-mouthed. From Srikakulam in Andhra Pradesh to the biggest singing stage, the Indian Idol, the journey of Shanmukha Priya is something that was filled with joy, laughter, moments of pride and dejection, and what not! It was a journey filled with everything making it a full meal.
Musical Family's Singing Icon:
Born in Vishakapatnam in a Hindu family, Shanmukha Priya completed her schooling from Sri Chaitanya Techno School. She learnt music from her mother Ratnamala, who is a music teacher herself while her father plays Veena and Violin. When she was three years old her father, Srinivas Kumar noticed her humming to the tune the alarm clock played. He instantly took out the veena and gave Shanmukha Priya the notes and rhythm.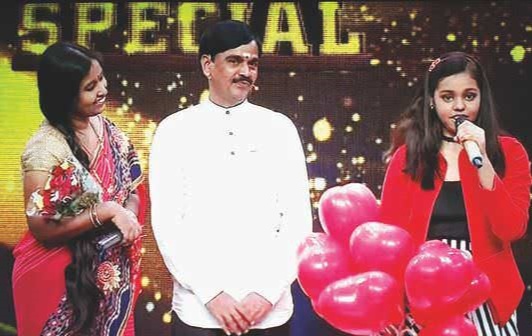 "To my surprise, that little child could catch the notes so perfectly and melodiously! It was then that we decided to train her in Carnatic classical vocal," says her father. 17-year-old Priya finished her class 12 recently with 97% from Sri Chaitanya Techno School in Asilmetta, Vizag. Priya was seen as a little and the youngest participant in the Zee Telugu Sa Re Ga Ma Pa Little Champs for the first time in the year 2008 and from there she continued to amaze everyone with her astonishing renditions. She appeared in music reality shows like TV's Voice India Kids, Paaduta Teeyaga, Zee TV's Sa Re Ga Ma Pa Little Champs, and many more. She also sang the title song in a Telugu film called "Tejam" in 2010. Along with Carnatic Classical, Priya also received training in Hindustani classical as well as in opera, jazz and yodelling.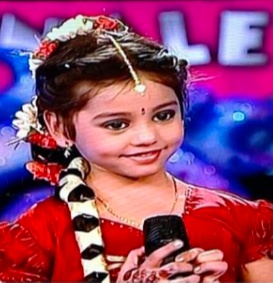 A Journey of Versatility:
It was all for Shanmukha Priya when the musical Maestro A R Rahman said, "She is the Jazz star of India". She gained fame for Yodelling, a way of singing where the singer modulates between his normal voice and falsetto. It's fun and difficult at the same time. Priya heard the song Zindagi Ek Safar Hai Suhana by Kishore Kumar and that is when her first acquaintance with Yodelling happened. She fell in love with it immediately and started to work hard in developing her voice to suit Yodelling.
It requires great control over one's voice. Usually, singers prefer to go from chest voice to falsetto, but I prefer going to the head voice, she says.
From A 4-year-old Hummer To Being An Indian Idol:
The nation has already fine-tuned its ears to witness the stunning performances of the contestants who hit the Indian Idol Season 12's stage. A voice singing "Main Hoon Jhoom Jhoom Jhumroo" appeared on the stage and the voice yodelled the song seamlessly receiving a standing ovation from the judges Vishal Dadlani, Neha Kakkar and Himesh Reshammiya.
Of course, we are talking about Shanmukha Priya, who entered the prestigious Indian singing reality show, Indian Idol Season 12. She said that it's a collective dream of her and her parents to sing on Indian Idol. This stunning Yodeller won the golden mic in the first round of the competition. Music Director, Himesh Reshammiya called her performance, an "outstanding, fantastic, historic, and mind-blowing" one. Her father Mr Kumar who is overwhelmed by her performance said that they feel so fortunate to see their daughter performing on such a huge platform. He said that a female's vocal chords supporting Yodelling is very rare and Priya does it so eloquently. Priya, who is very much excited for having to compete in the senior category for the first time said, "Music is certainly one of the best things in my life. I can't do without it even for a day."
The girl who the nation has been watching right from her childhood has now become an iconic singer and with the entry into Indian Idol, her fame shot up high. We wish Priya to reach more people and let her voice perform more miracles.

Follow Her For More Updates