Bold women who approached the court to get into their dream job of Line-women.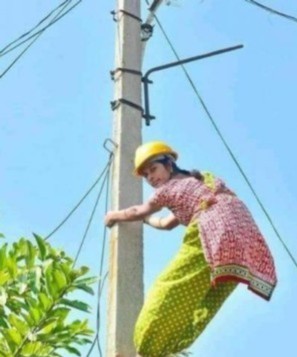 How many times have women proved that they are not less than men in delivering physically challenging tasks? Women have been carving their way into the toughest jobs alongside men and have already set their feet in Indian forces as well. In the air, under the waters, in the deserts and on the borders - be it anywhere and be it anything, women have never stepped back. Many women have set their foot in the male-dominated fields and proved their strength. Not only that, they have initiated their careers in those fields that were considered to be purely for men and showed the way to other women to pick up those careers. In this write-up, we bring before you, the story of one such woman change-maker, Babburi Sirisha from Telangana, India, who became the first woman to crack the Junior Lineman recruitment examination conducted by the TSSPDCL (Telangana Southern Power Distribution Corporation Limited).
In 2019, two women from Telangana, Babburi Sirisha of Siddipet district and V Bharathi of Mahabubabad district have gone to the High Court challenging the TSSPDCL that denied them from applying to the linemen post. TSSPDCL did not consider the application of women for the post of linemen as the job involves climbing 18-feet high electric poles which is a tough task for women. The women applicants were denied to appear for the written exam. However, with the court's order, TSSPDCL gave the women a chance. Out of 8 applicants, Sirisha and Bharathi could clear the written exam. Even after this, TSSPDCL kept their results on hold and did not call them for the pole test. Again, the women approached the High Court upon whose order; a pole test was conducted to them. Both these women cleared the pole test on 23 December 2020 while Sirisha climbed up and down the pole in less than a minute. They also must appear before a single-judge bench to get their appointment letters.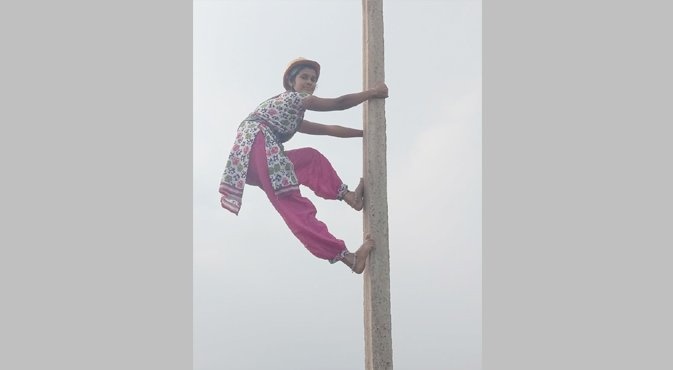 "That's what the court had decided last time while instructing Transco to take their pole test. But we are certain the court will support them, now that they have cleared the test," said senior advocate, S Satyam Reddy, representing the women.
While Babburi Sirisha is a 20-year-old girl from Siddipet who wanted to get into a government job before getting married, V. Bharathi is a 32-year-old from Mahabubabad and is a mother of two.
Balancing Family and Career:
V. Bharathi is a mother of two, a two-year-old and a five-year-old, whom, she left in the village back in Mahabubabad and stayed in Warangal to receive training. She says that she was trained by her 34-year-old husband Mohan S Maloth for two hours every day and his support, she says was so immense that helped her in acing the pole climbing test. She expresses hope that men in the power department were as supportive as her husband is.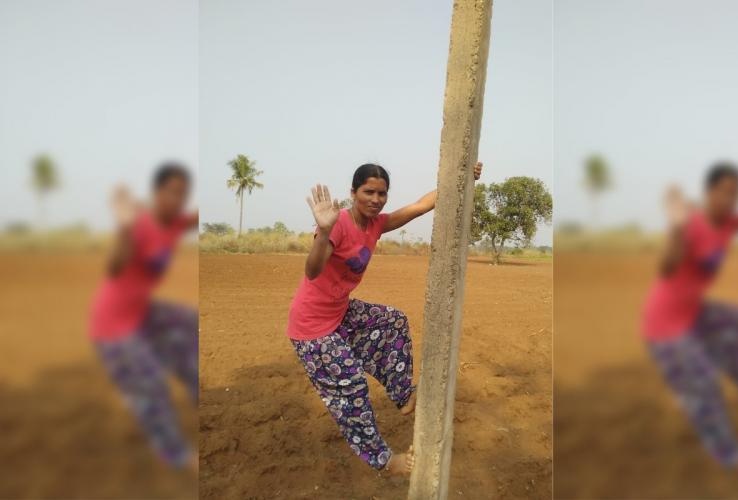 Young And Zestful:
The 20-year-old girl who scored 7.2 GPA in her SSC and is now pursuing II year of her BA at Dr BR Ambedkar Open University, Babburi Sirisha, completed her ITI in Electrician trade. She was guided by her uncle B.Shekar, a Sub-Engineer with TSSPDCL. As no woman was applying to the post of lineman, Shekar encouraged her niece to complete ITI and appear for the Linemen recruitment examination. Sirisha met his expectations and by overcoming all the challenges, she landed on the desired job. She gained mastery over climbing the pole under the guidance of her uncle for a couple of months. Sirisha's parents Venkatesh and Radhika who are landless labourers were always supportive in every walk of her life.
Confident and Committed:
The two women are eagerly waiting to report to duty soon. "Now there is nothing that can hold us back. We will prove to everyone that women are no less in any job they do," said Bharathi.
It hasn't been easy as it is written for the women. Their victory was a result of a long legal battle with power distribution companies who did not allow women to even think of these jobs. Even after their written test results were blocked and they were refrained from giving pole climbing exam - the two rounds an applicant must clear to become a lineman, their fight has won them their right and today, the duo became the first line women in the history of the electricity department to hold this position.