He funds his own education and fought several battles to become a photographer. Received recognition from National Geography.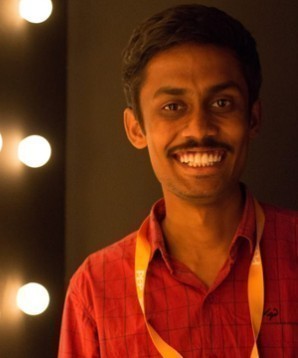 He uses his camera to see the world. He captures not the external smiles but inner happiness. From documenting the work of one of India's largest volunteer organizations to shooting international travel shows across the world, this young photographer has come a long way holding a smartphone to take pictures and now, a camera. He creates aesthetic visual imagery that tells heart touching stories. Let's dive into the world of Saikiran Pabbala who says that he is ready to work across India and beyond.
Working For A Social Cause Showed His Passion:
Saikiran Pabbala who was born and raised in Hanamkonda, Telangana by Pabbala Venkateshwarlu, an Assistant Depo Clerk and Pabbala Nagalaxmi, a homemaker, is currently in his second year of graduation at Chaitanya Deemed to be University. Born in a middle-class family, Saikiran had to go through the common struggles every middle-class youngster shoulders. It was only after his sister's financial independence that the family could lift itself up economically. Until then, for years, the family was sailing in an "about-to-sink" ship.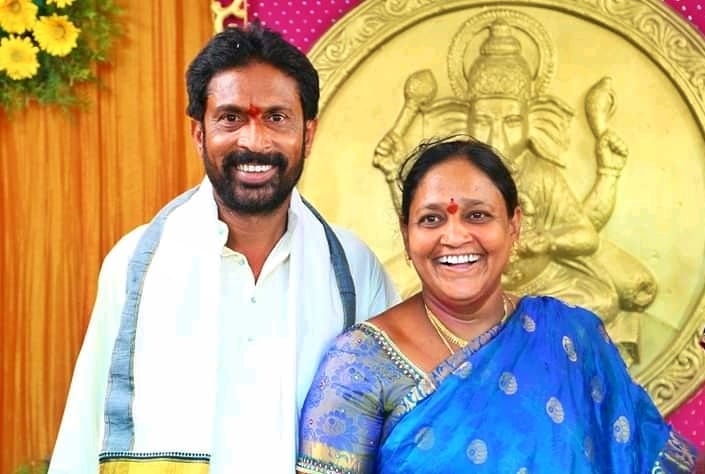 Having known the struggles of people from poor financial backgrounds, Saikiran, along with three of his friends initiated a social welfare organization "Let's Spread Love" and were involved in various activities like donating food, grocery, clothes to the needy and homeless. While receiving them, the helpless faces of the hungry and destitute bloomed with smiles. These smiles were straight from their heart and attracted Saikiran so much that he started capturing those beautiful curves and wrinkles using his smartphone camera. In this process, Saikiran realized that his love for clicking pictures is endless and is only increasing day by day. He started chasing his passion for photography boosted by the smiles of people.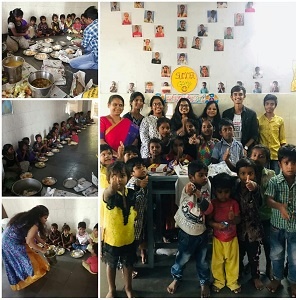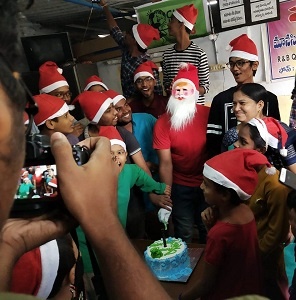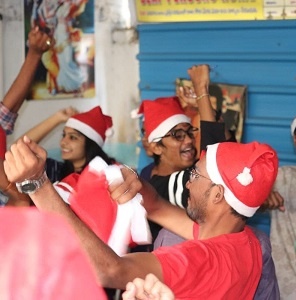 I draw my muse in photography from Photriya Venkey, Audi photography and Amar Ramesh, says this enthusiastic photographer.
Life Was Never A Smooth Garden:
There was a time when Saikiran had to take an important decision for his life. Though he wasn't interested to join the engineering course, he had to step into a B.Tech college succumbing to the parental will. He wanted to pursue his bachelor's degree in Photography but he couldn't express it clearly in front of his family and finally ended up in an engineering college. For one year, he felt it like hell to remain in the college, post which, he couldn't help but leave the college to join a bachelor's in business administration. Everyone opposed Pabbala's decision but he went ahead without compromising on his decision. Currently, he is working as a Freelancer and earning money to fund his college fee. When he felt aloof, it was his friends Onisha Reddy, Gokul, Sathwik and Harika who travelled with him in all his highs and lows. They gave him the necessary boost whenever he lost the light of hope.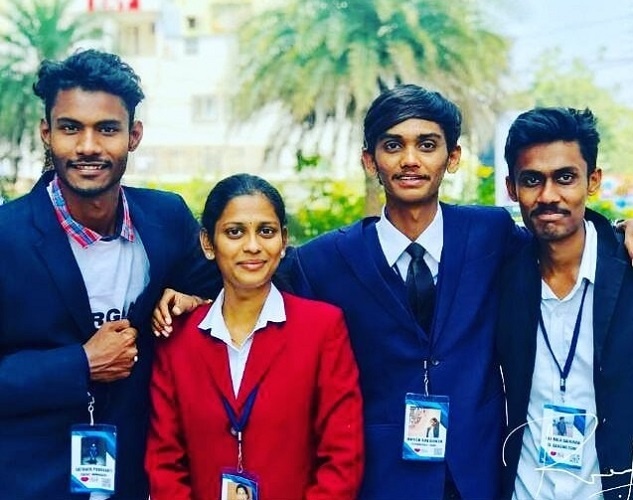 All I can say is that these guys are pillars of my passion, says Pabbala.
Financial constraints squeezed Saikiran so much that he couldn't afford buying a camera to take up his passion.
The Photographs that speak:
I fell in love with the process of taking pictures, with wandering around finding things. To me, it feels like a kind of performance. The picture is a document of that performance, these words on Pabbala's website tell us how much a soulful photographer he is.
When he clicks the houseflies that embraced a metal tomb, he tells that everything is as beautiful as a butterfly sucking the nectar. An oldie with skin and turban, both wrinkled, displays a decent smile on his lips and there you go, Saikiran tells what peace is all about.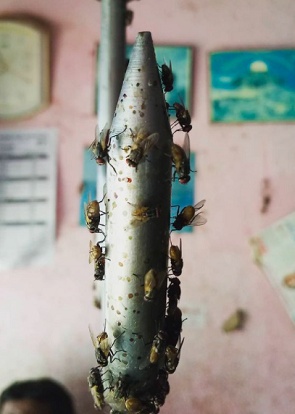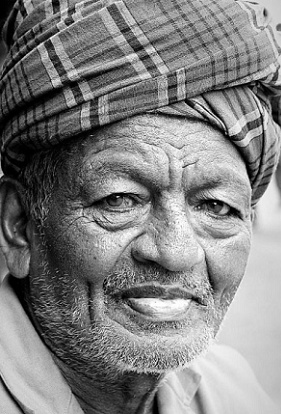 Peace is the beauty of life. It is sunshine. It is the smile of a child, the love of a mother, the joy of a father, the togetherness of a family. It is the advancement of man, the victory of a just cause, the triumph of truth.
In his photography, a knife tells how sharp it can be, a happy mango smiles through the cuts it bears, a keyhole tells how locking ourselves up sometimes can be a key to walk into a new life, a baby enjoying her oil massage with closed eyes gives the meaning of bliss, and many such more to pen.
Recognition Follows Soulful Work:
Saikiran thinks that recognition is the toffee to the amount of sweat poured in. Saikiran was made a part of Telangana Innovation Yatra 2020 which is a 4-day journey that was organized by Telangana State Innovation Cell and KULT. He covered the 4-day-long journey with his lens and that period gave him an opportunity to meet new people and explore new places.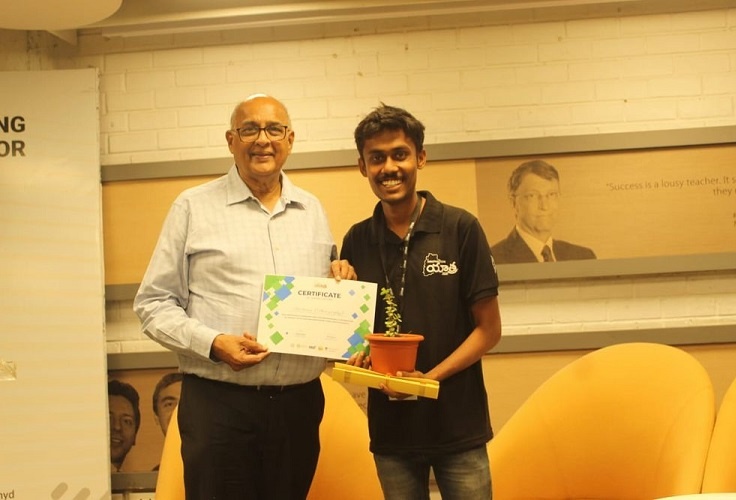 "It stood as the best way to showcase my talent in photography by exploring the culture in and around Telangana", he said. In 2017, he received a Certificate of Recognition from the National Geographic Society for his outstanding contribution to photography. His participation in the 35 Awards, the 4th international photography awards was highly commendable as 112268 people from across 172 countries participated in the event.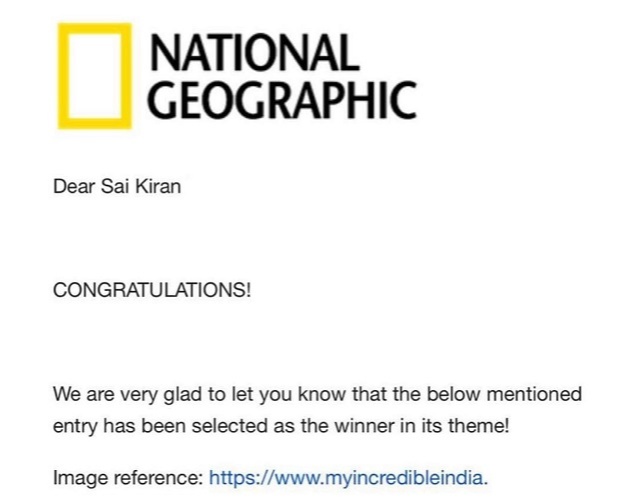 Photography Is Life And Hard work Is The Lifeline:
"I can't remember my life before I started looking at the world in frames. Photography has let me see the beauty in the world around us. This ability to see beauty has turned into an obsession to seek more beauty. In turn, this search has turned into a life full of travel." says Pabbala.
The young photographer who is pursuing his graduation currently wants to secure a Master's degree in Photography. In the days to come, he wants to see himself as a prominent photographer. He tells youth that hard work and determination are the only weapons to beat all odds that come in our way to success. He says that if not hard work, nothing in this world can help us to fulfil our dreams.
Do what you love and make it your career choice. Never turn back being afraid of insults or hardships. Hard work coupled with smart thinking makes you the winner, Saikiran concludes.
We wish this budding photographer brilliant thoughts and creative muses all his way. May his photographs teach, preach, spread joy, share love, give morals, uplift, and empower.

Know More About His Work

Follow Him