No wonder Sonu Sood called him the "Stone Man".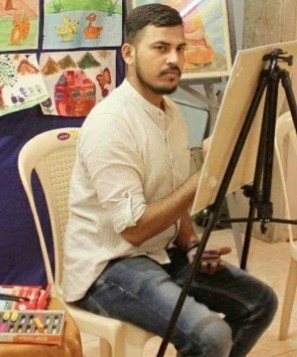 What doesn't appeal to the eyes of an artist? Give him anything under the sky, he turns it into a marvellous piece of amazement. Rocks, chalkpieces, mats, air, sand- woah!! How many do I list? Not anything in this universe is useless infront of artistic eyes. While everything in this nature is beautiful, an artist gives a whole new look with a different perspective to that natural beauty. One such artist of immense talent is Suman Dabholkar and this is his story.
Who doesn't admire the rocks that swing with the waves of river waters? We often tend to collect those fine pebbles and stones from the river basins. We write names of our loved ones or just get them home to adorn our living room showcases. But Suman goes to the rivers to collect these rocks but not to admire them the way they are. He re-creates them giving them a whole new look.
A Life Dedicated To Art:
Suman hails from Konkan- Paradise of Maharashtra. Having graduated from Mumbai University in Fine Arts in the year 2008, this artistic genius was the college topper and stood 4th in the State level in Maharashtra Fine Art Exam. Suman works as a Freelancer and undertakes projects from companies as well as individuals. His areas of work include a long list of artistic areas like theme wall painting, portraits of eminent personalities, sketches, digital painting, Warli art, landscape, Quick sketching, Portraits, Realistic paintings, Abstracts, Still life art, Anatomy, etc incorporating as many mediums as possible into each one. His mediums of painting include Oil colours, Water colours, Acrylic colours, Oil pastels, Dry pastels, Pencil etc. Having participated in numerous National and international Art festivals and exhibitions, Suman teaches Art to the enthusiasts, be it young or old, and has over eight years of teaching experience. If not working on an art piece or not teaching art, Suman can be found reading books like the Biography of Raja Ravi Verma or books about revolutionary artists like Vincent van Gogh, Pablo Picasso, Leonardo Da Vinci, Michelangelo, Salvador Dali, etc. He loves attending lectures of eminent speakers. He also loves trekking.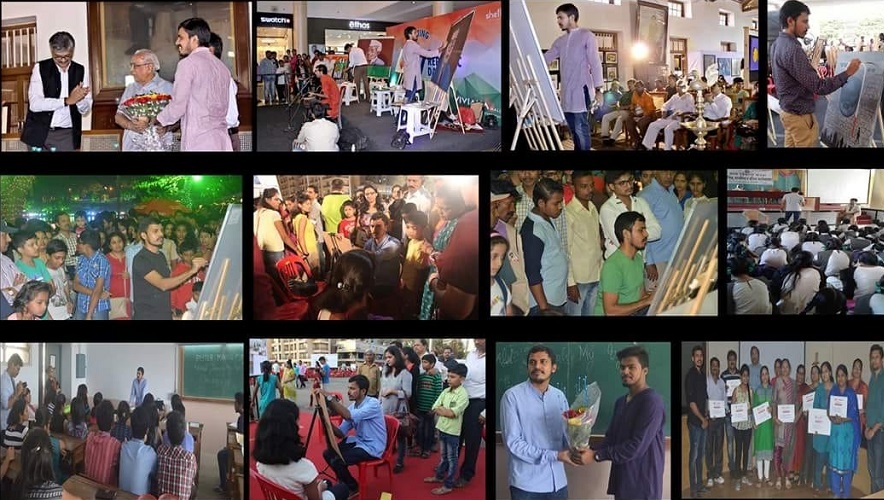 A Strong Desire to Share His Knowledge:
Suman strongly believes in the fact that when knowledge is shared, it multiples further. "Unless I do not share my knowledge, I do not learn further. I find joy in teaching children as well as adults." he says. Whenever he is not working on projects, he caters his time for teaching. This artist whose favourite form of painting is 'Expressionism' or Idea based painting, teaches art to everyone who is enthusiastic right from 4 year olds to 70 year olds. Students get an experience of learning art from professional institutions through his State of Art teaching techniques. He also submits articles in various newspapers and magazines to throw light on various artistic themes.
Rocks Turned Into Famous Personalities:
A raw river rock was converted to hold the picture of actor Sonu Sood and soon, received wide acclaim for its brilliance and perfection. Corona virus pandemic lockdown has brought the skills in every individual on to the centre stage. Suman, who travelled back to his hometown at Kankavli in Sindhudurg district often drove to the beautiful rivers in the area. "The natural beauty of Sindhudurg has always attracted me. When I got the opportunity to stay in my hometown during the lockdown, I could observe the nature carefully," he said. Suman, who always wanted to create his art in close proximity to nature, rediscovered new side in him during the lockdown. As he looked at the stones in the rivers, he said he could visualise their shapes and forms.
"I could visualise various shapes and forms in the stones. An idea occurred to me of giving these stones a new life," he said. With this idea in mind, he picked up the river stones, raised his brushes up to paint the images of Shivaji Maharaj, Savitri Bai Phule, Lord Vitthal, scientist Albert Einstein, former president A P J Abdul Kalam, cricketers Sachin Tendulkar, Har Bhajan Singh, and M S Dhoni, actors Sonu Sood, Amitabh Bachhan, Naseeruddin Shah and poet Narayan Surve. "I always wanted to pursue an art which is closer to nature and create awareness about it among those who do not visit art galleries," he told a release.
This Thane's drawing guru also painted the face of Dr B R Ambedkar on a large rock on the ocassion of the Constitution day.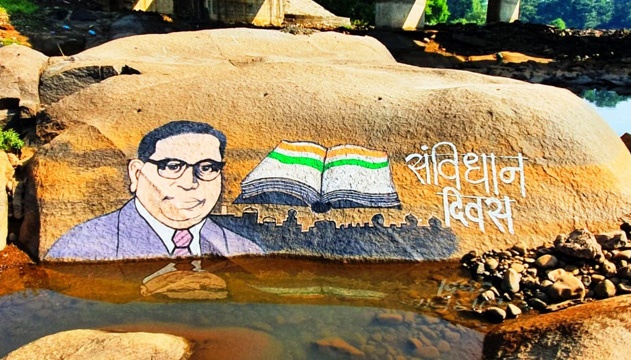 He also drew and painted the images of animals and cartoons using acrylic colours on stones.

All this, he did without changing the natural shape of the stone. The stone is neither cut nor sharpened in any way. His works received wide acclaim and went viral on social media. While the actor Sonu Sood who was impressed by Suman's work called him "Stone man", his exceptional talent has left the netizens jaw dropped.
Nature is a huge canvas. It gives a lot of lessons and teachings, said the artist.
Spreading the Goodness of Art:
Suman believes in spreading awareness among people regarding various forms of art and thus conducts various workshops, demonstrations and seminars across India on a frequent note. He also participated in Art project at the 'Jaya he' Museum in Mumbai International Airport. Workshops on Calligraphy, Dot Mandala Painting, pencil sketching, paper art etc. are extensively offered to everyone during his free time. Suman, who was a part of MAD serial in Pogo is also a great Art Illustrator. If you take a look at his Facebook profile, you will be amazed at the awe-inspiring works of his students. This Art Teacher in New Horizon Scholars School, Thane, keeps posting magnificent art pieces done by his students, young and old - and I bet you will run to become his disciple. This epitome of art who has also judged several art competitions got his work selected at the 3rd International Watercolour Biennale Vietnam 2019 out of 500 participants from across 62 countries.
Long live art and long live artists like Suman. They not only make art, they make society.

Follow His Works