82 year old Shepherd has created 14 Ponds for the thirsty birds and animals. What an incredible way to contribute to the environment.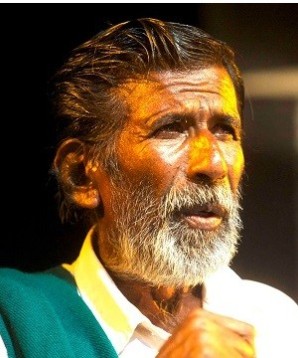 What is the use of education if you fail to understand that the very Earth we live in needs to be protected says a proud 82-year-old illiterate Shepherd.
Who is Kamegowda?
Mad Man or Pond-Anna as he is called, hails from Daasanadoddi village in Mandya district of Karnataka. He is on a mission to create ponds in the hillside of this village for the thirsty birds and animals and has so far created 14 and has miles to go. Despite being made fun off and being called a madman nothing has stopped him from continuing his work. Even the most learned environmentally conscious have not been able to achieve what this simple man has.
Why did he do

it?
How can you turn a blind eye to the animals and birds who struggle to find some water to quench their thirst? It was nearly 4 decades ago while taking his flock of sheep to graze, he noticed and observed the plight of these creatures and could no longer allow it to go on. This is when he decided to create water pits or ponds. "I clearly understand how exactly they feel as I have lived all my life like an animal – having been a shepherd boy since 5 years old" says Pond-Anna.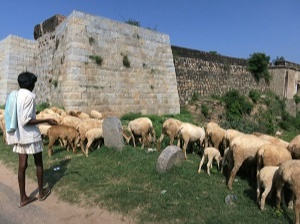 Why this

crisis?
The crisis has occurred all due to the negligence of the environment by us human beings. It is time that we do something before it is too late. It is only in the last few decades that there have been irregularities in the rains and even during the summer when it is supposed to be green it isn't anymore. The rainwater is either absorbed by the earth, evaporated or flows but there is nothing to retain it.
Where does the money come

from?
Where there is a will there is a way. Almost all his earnings and the money received from the awards is being spent on hiring the JCBs to dig to create the ponds and maintain them. So far he recollects that more than 15 lakhs have been wisely spent and he is extremely satisfied to see the results. He has even made pathways and tends to the ponds with so much love and care like his flock of sheep.
Where to

dig?
It is no rocket science. He knows every inch of the entire hill area so well that only through observation over the years that he has concluded. He says that between the festivals of Ugadi and Shivaratri, the earth retains its dampness and even in the dry land there must be greenery. This is how he knows where the digging spot is and has never gone wrong.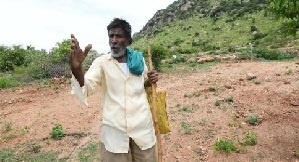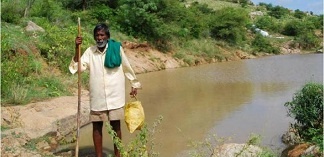 What does his family

think?
His family thought it was a futile mad venture by a mad man and have always wanted him to invest in property or gold for his children and grandchildren. He felt that money and gold one can make and lose but this kind of service will live forever. "I have christened two ponds Pooja and Purvi in my daughters' names – as this is a sensible investment" he claims. He has also named other ponds after his grandchildren. Only after receiving recognition and awards that his family and the villagers realize how important and useful work this man has been sincerely believing in and arduously working and making a huge contribution. This is the most beautiful gift I could ever think of giving to my children and am sure they will continue to contribute to the nature even long after I am gone.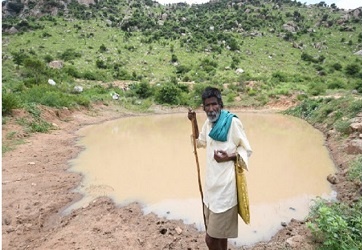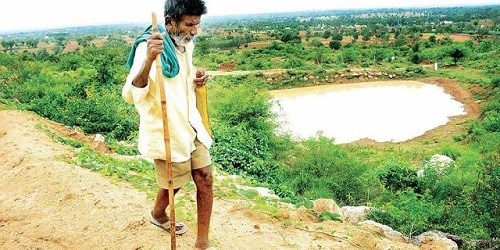 Any

advise?
Education is all in the Environment. Every human being has a responsibility whether young or old. It may not be possible for everyone to build ponds, but at least a few plants in homes and a bowl of water for the birds or a pot of water for the dogs is surely doable. Every Parent must talk and discuss the dangers and how children can contribute to saving the Earth. Every school must teach on why we need to protect this beautiful planet that we so depend on.
He concludes: "I have a healthy addiction and will continue till my last breadth –This year (2018), the skies have shown mercy and I thank the rain gods".