India's First Woman Combat Pilot IAF-Avani Chaturvedi creating history along with other women pilots.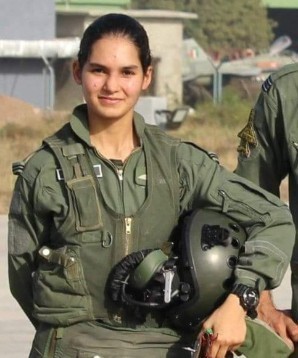 Indian women are setting their standards higher and higher as time grows and they are changing every ordinary aspect into extraordinary by taking part in it and excelling in the job. Women are going above and beyond to express their talents in all the fields. One of such impeccable Woman Is Avani Chaturvedi is the Flight Lieutenant in the Indian Air Force. Avani Chaturvedi is the First Woman Combat Pilot from Rewa District, Madhya Pradesh. She was born on 27th October 1993 to Dinkar Chaturvedi and Mrs Chaturvedi. Dinkar Chaturvedi is a superintending engineer in the Water Resource Department of the Madhya Pradesh government and her mother is a homemaker.
Germinating towards Her Astonishing Journey!
She completed her schooling in Deolond, a small town in Shahdol district of Madhya Pradesh. And Completed her Bachelors in Technology from Banasthali University, Rajasthan in 2014, she passed the AFCAT and further was recommended by AFSB. She was a common girl from a small town, but she aspired to become so strong and brave. Her elder brother is serving in the Indian Army, he is the one who inspired her to join the Indian Air Force. She also had a few hours of flying experience in the flying club of her college Banasthali University, which inspired her to join the IAF. Colleges like the University of Banasthali has encouraged women to fly using the resources they had. They have knowingly given a Torchlight to Avani and other aspiring students like her to endure and experience what they've aspired to do.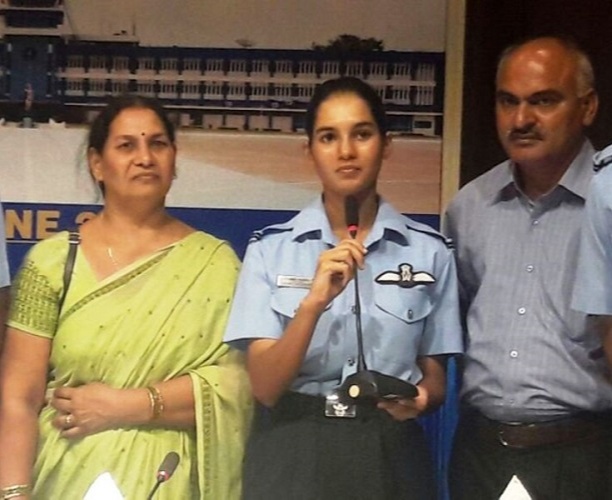 Stepping Into Her Career...
Avani Chaturvedi got selected to train in the Hyderabad Air Force Academy and completed the training at the age of 25. After the Completion of her Training, she was appointed as the First Woman Fighter Pilot. Once Chaturvedi completes Stage III training at Bidar in adjoining Karnataka next year, she will be able to fly fighter jets like the Sukhoi and Tejas. In 2018, Chaturvedi became the first Indian woman pilot to take a solo flight in a MiG-21. In 2018 Avani was promoted to the rank of Flight Lieutenant.
Chaturvedi is posted in Indian Air Force No. 23 Squadron Panthers in Suratgarh, Rajasthan.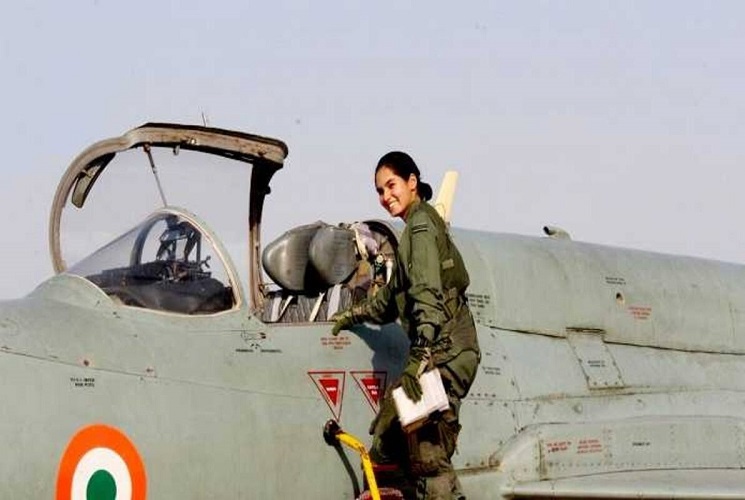 Chaturvedi flew a MiG-21 Bison for 30 minutes all by herself, becoming the first Indian woman to do so. MiG-21 Bison is the heaviest aircraft to handle. She proved and broke the taboo that women cant carry heavy kinds of stuff! But she handled the heaviest aircraft!!
The Pleasure of Getting recognized and being awarded...
She was recognized by her very own college, she was honoured with the doctorate degree from Banasthali Vidyapeeth In the year 2018. On 9 March 2020, Chaturvedi was awarded Nari Shakti Puraskar by President Ram Nath Kovind. "Being a fighter pilot is not inherited and is not gifted, I earned it with my own blood, sweat and tears," said Avani Chaturvedi.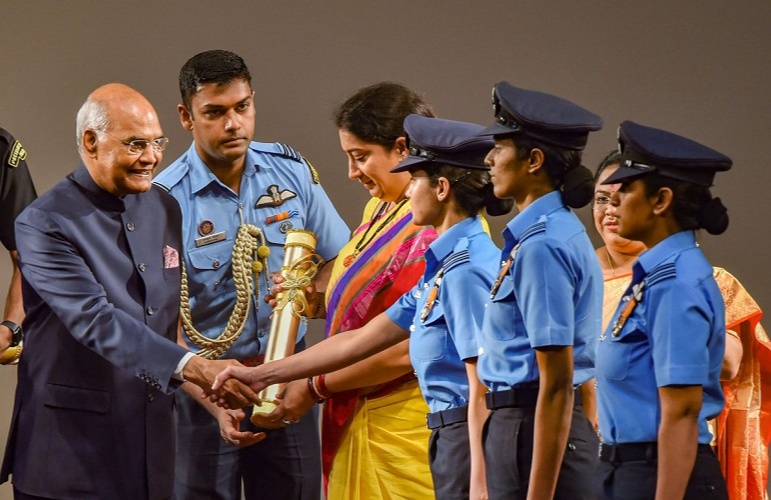 Women Power In the Indian Air Force!
Even though Avani Chaturvedi is the First Woman Combat Pilot, IAF recruited two other cohorts Mohana Singh Jitarwal, and Bhawana Kanth. The trio was inducted into the Indian Air Force fighter squadron in June 2016.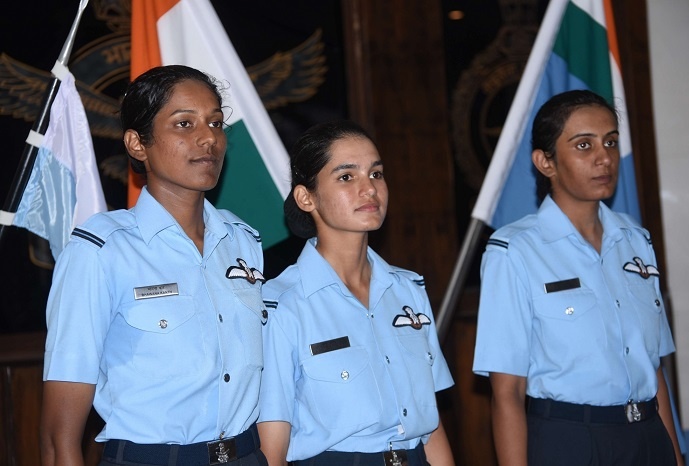 They are the first three women pilots commissioned into the Fighter Stream with six more having joined the IAF as Fighter Pilots since their pioneering feat. MiG-21 Bison is a single-engine, single-seater multirole fighter/ground attack aircraft of Russian origin which was operated by this Powerful Trio.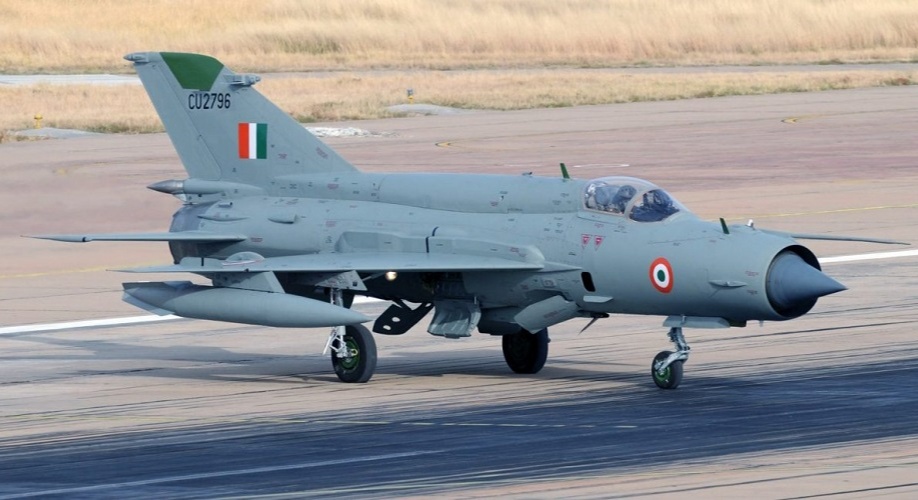 As of September 1, 2020, the total strength of women Officers serving the Indian Air Force is 1,875, Of which eighteen are navigators and only ten women officers are fighter pilots. One of the pilots – Flight Lieutenant Shivangi Singh is currently undergoing Rafale "conversion training". In 2016, three officers – Bhawana Kanth, Avani Chaturvedi, and Mohana Singh – created history by becoming IAF's first women fighter pilots.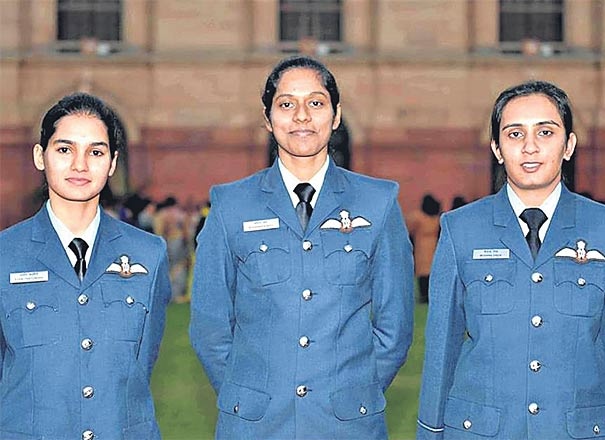 Country's first all-women Medium Lift Helicopter crew
In May 2019, three Women officers of the IAF created history after flying a medium-lift helicopter. The trio of Flight Lieutenant Parul Bharadwaj (Captain), Flying Officer Aman Nidhi (Co-Pilot), and Flight Lieutenant Hina Jaiswal (Flight Engineer) flew a Mi-17 V5 helicopter for a battle inoculation Training Mission. They took off and landed from restricted areas at a forward airbase in South Western Air Command. Squadron leader Richa Adhikari, the unit engineering officer, certified the helicopter airworthy. Flight Lieutenant Bhardwaj hails from Mukerian in Punjab. She was the first woman pilot to fly the Mi-17 V5. Ranchi-born Flying Officer Nidhi is the first woman IAF pilot from Jharkhand.
Don't Get Shocked by the Astonishing Achievements of these Strong women!!
First Woman Flight Engineer Of IAF: Hina Jaiswal
Flight Lieutenant Hina Jaiswal, who hails from Chandigarh, is the first woman Flight Engineer of the IAF. She became the first woman flight engineer in the Indian Air Force in February, last year. She successfully completed the course in the 112 Helicopter Unit, Air Force Station Yelahanka. During the six months of hard training, she trained alongside her male counterparts. "Since childhood, she had aspired to don the soldier's uniform and take on the skies as an aviator. Finally, her dreams have manifested into reality after successfully graduating from the alma mater of Heli-lift," said the IAF.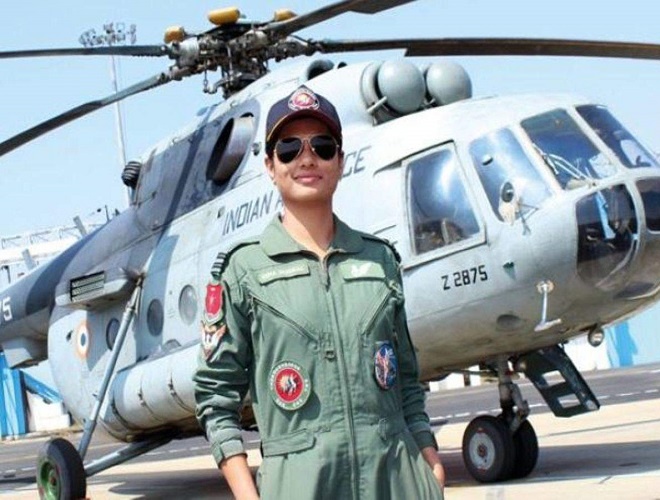 Bhawana Kanth: Second Indian Woman To Fly Aircraft Solo
Flight Lieutenant Bhawana Kanth became the Second woman pilot to fly a fighter aircraft solo, after Avani Chaturvedi. She hails from Darbhanga in Bihar. Kanth had revealed how flying "as a free bird" had always been a childhood dream for her. When she finally got the opportunity to fly high in 2016, there was no second thought in joining the IAF said the lovely, strong woman.
In 2019, Kanth also became the first woman fighter pilot capable of undertaking any mission during the daytime. "After clearing my Stage I training, I got the golden opportunity to opt for the fighter stream. The best and the biggest thing that has happened to me and the best part is it is just the beginning. It is my aim to become a good fighter pilot and fight for the nation and make my parents proud," says Bhawana Kanth.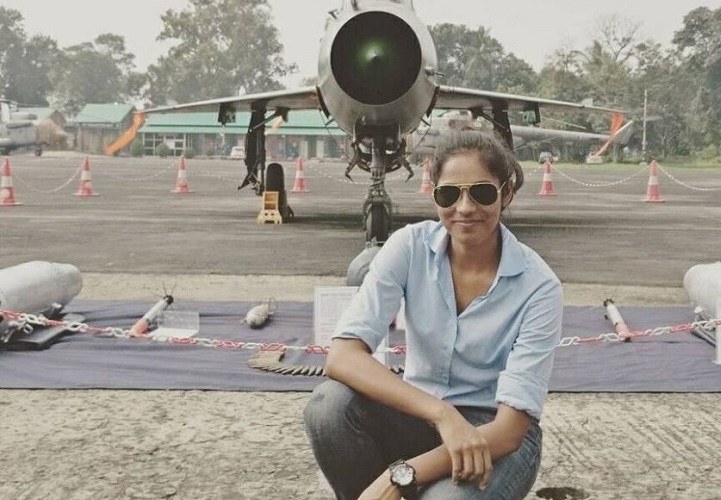 Mohana Singh: She Flew The Hawk Jets
Flight Lieutenant Mohana Singh was one of India's First women to pilot missions on the Hawk advanced Jet Aircraft during the daytime last year. She landed after a '4 Aircraft Combat Sortie' at Air Force Station, Kalaikunda in West Bengal. Both air to air and air to combat missions were included in her training. She had also undertaken a number of practice missions which involved firing rockets, guns and dropping high calibre bombs. Additionally, she also participated in many Air Force level exercises. Of the 500 hours, which she spent in incident-free flying, 380 hours she spent flying the Hawk MK 132 Jet.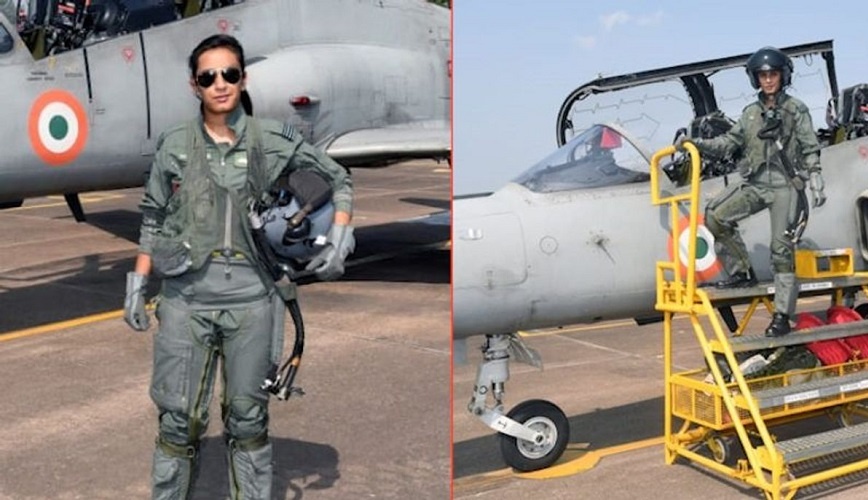 Minty Agarwal: Honoured With Yudh Seva Medal
Squadron Leader Minty Agarwal was awarded the Yudh Seva medal last year in August for her distinguished service during wartime. She became the first woman to receive the honour. Agarwal was one of the flight controllers served during Pakistan's retaliation to IAF's Balakot airstrike. Five of India's IAF Mirage-2000 aircraft bombed a JeM terrorist training camp in Balakot on February 26. Agarwal was part of the IAF's team of seven fighter controllers on duty then. "On 26th February, we successfully carried out the Balakot mission over non-military camps. We were expecting a retaliation, therefore we were extra ready. They retaliated within just 24 hours." says Minty Agarwal.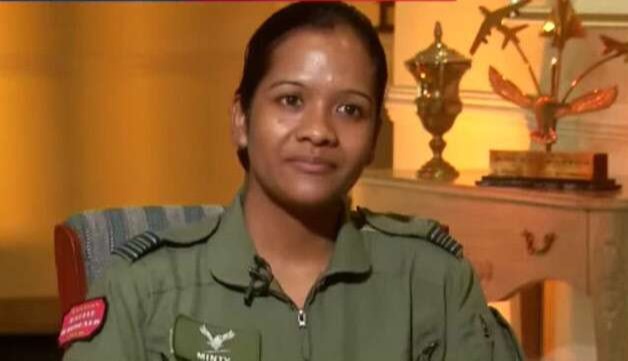 Squadron Leader Khushboo Gupta
Khushboo Gupta is the first woman helicopter pilot to land at forward posts on the Siachen glacier.
"During my training days, my instructor would tell me 'don't even dream of getting posted to Ladakh and flying choppers there," says Khushboo Gupta.
"But here I am landing my Cheetah helicopter on matchbox-sized helipads at altitudes of nearly 20,000 feet in Siachen," said Squadron Leader Gupta. She was one of the two women serving in the Leh-based 114 Helicopter Unit, also known as Siachen Pioneers.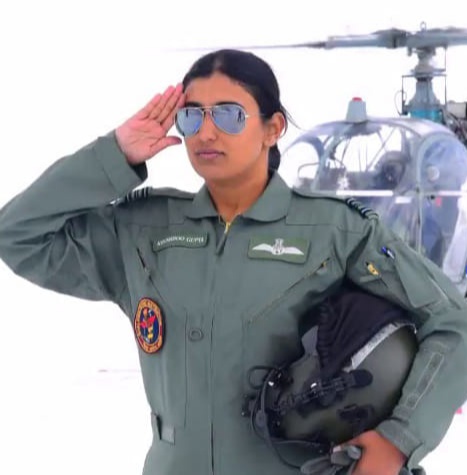 Shaliza Dhami: First Woman Flight Commander
Last year, Shaliza Dhami, who served as a Wing Commander in the IAF, became the country's first-ever women Flight Commander of a flying unit. She has been serving in the IAF for the past 15 years. An expert at flying choppers, Dhami became the first woman flying instructor of the Air Force and is also the first woman officer to get a permanent commission of the flying branch.
She was in charge of a Chetak helicopter unit at the Hindon Airbase in Ghaziabad, Uttar Pradesh. Ludhiana-born Dhami dreamt of being a pilot since she was in the ninth grade. She took her first solo flight in 2003 in Hyderabad, on the HPT-32 Deepak, a basic trainer aircraft, and by 2017, she had clocked over 2,300 hours in the air.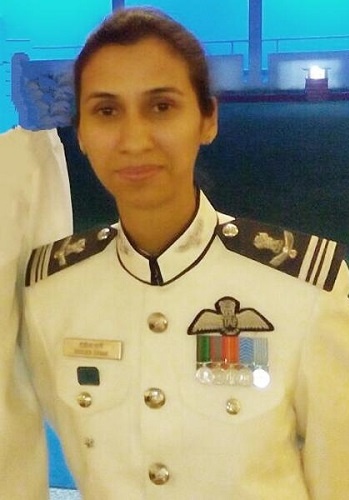 Shivangi Singh: First Woman Pilot To Join Rafale Fleet
Flight Lieutenant Shivangi Singh is set to create history by becoming the first woman fighter pilot in the Indian Air Force's (IAF) Rafale squadron. Singh hails from Varanasi and was commissioned into the IAF in 2017 as part of the second batch of women fighter pilots. Currently, Singh is undergoing rigorous training to fly IAF's newest fighter based in Ambala, also known as "Golden Arrows."
After joining the IAF in 2017, she steadied her hands by flying MiG-21 Bison aircraft and was till recently serving at a fighter base in Rajasthan. Prior to this, Singh was deployed as a cadet of the 7 UP Air Squadron in the National Cadet Corps. She has flown along with Wing Commander Abhinandan Varthaman, who was taken captive after the Balakot airstrikes.