Eradicating gender bias is not new but a continuous battle that must be fought esp in Africa.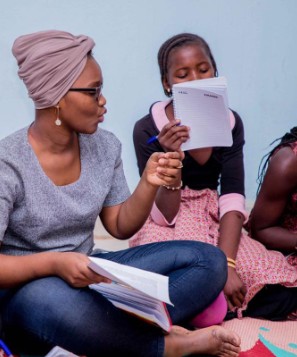 Gender equity isn't just a privilege, but it is also a prerequisite for a stable, healthy, and secure society. The shades of Joy are the agonies of a young child who was victim to torture and who later discovered in a friendship that led to the greatest misery of her life. Feminism and enfranchisement are among Generation 17 Agenda under Sustainable development, integrated into all facets of economic and social development. This initiative utilizes a combination of Samsung Galaxy technological innovations and UNDP's portal to inspire the next generation to accomplish 17 big targets in less than ten years. Gen 17s commitment to women's equality necessitates steps to address the numerous core causes of discrimination that continue to limit women's rights not only in the domestic but also in the private realms.
Sadya Touré, amongst the youngest leader of generation 17, originally from Mali, was able to rebuild herself, becoming an influential figure in Africa despite experiencing the traumatic history of her upbringing. A 23-year-old founder and author of Mali Musso, Sadya Toré, born in 1997, is a Malian web blogger and feminist who champions women through knowledge and empowerment to promote a culture devoid of gender-based savagery. With her tumultuous inner voice cried out, "I later realized there had been a record surge in abuse, a ton of savagery, particularly on little youngsters in their 20s. So, I said to myself, we should likewise figure out how to help since everybody has their method of battling". Sadiya began her schooling in her teenage and got her Bac at 16. In Bamako, she will complete her entire course program. She has now completed her graduation in Journalism and Communication as well as a post-graduate in Modern Literature. Sadya joined liberal democracy through the National Children's Parliament of Mali, according to another record. Since then, she has become a well-vented activist and has engaged with a few affiliations.
Daughter of a courageous mother...
Sadya originally belonged to Timbuktu and was brought up in Bamako with her young sibling and parents, who instilled in her the value of hard work and achievement. In addition, she taught that she should not let her gender be a barrier to her future success. Born into a brave family, Sadya Touré faced many challenges in her childhood. "My mum was courageous," she remarked. Sadya's mother fled her village as a teen to pursue Sadiya's schooling. Motivated by her mom along with her childhood experiences, Sadya headed to advocate for change. Sadya needed to help rustic individuals, explicitly the individuals who don't generally have any choice. Her community faces barriers to education and information, as well as violence against women. Sadya Touré was determined to battle against extraction and savagery against ladies. Her efforts eventually led to the establishment of Mali Musso, a non-profit that promotes women's equality in southern Villages of Africa and works to eliminate gender-based violent acts.
Inked her experiences on paper…
Sadya acknowledges an incredible digital platform for assisting her to achieve transformation by voicing, telling experiences, and growing awareness as a digital warrior. "The online technologies offer transparency, and a sense of responsibility that your activities are prompting everyone else to respond, which inspires you to do even more," Sadya explained. She realizes that the ability to change the world is in a real sense readily available, and we can't underestimate that. A great deal of the chances that Sadiya and her association have gotten has been a direct result of what they post via online media. Sadiya understood that narrating has probably been the ideal way for her to make my message consumable in the digital circle Sadiya acknowledged that smartphone aided in promoting her debut book's publication " Être Une Femme Ambitieuse au Mali." She expresses gratitude to all of the internet marketing that assisted her in realizing her ambition. She used internet techniques to enhance not just her art but also her ideas and advocacy. As an activist, she published her first novel, which deals with a taboo issue in Malian culture. Her book got released in Timbuktu and Bamako, contributed to the continuing discussion in Africa about feminism. She additionally helped to establish the 4IsTalks Platform, which urges youngsters to think basically and discover answers for worldwide difficulties. The Confederation of West African Youth has designated her as amongst the hundred most Influential Young People in West Africa for her accomplishments.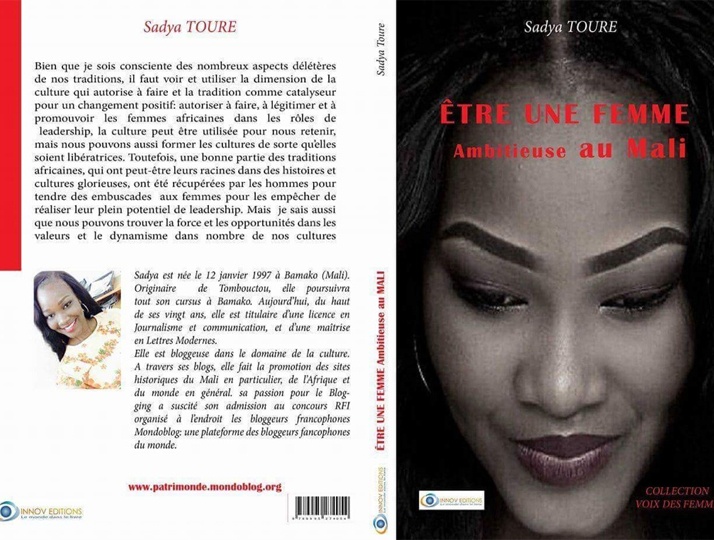 As a changemaker deploring gender disparity...
Sadya determined to abolish all sorts of prejudice against females worldwide. She battled for a decent education, population health, and an ending to inequity, eventually demonstrating to youngsters that it is necessary and possible to roll out an improvement. She inspires women across Africa and sparks a discussion against all forms of injustice, including trafficking, sexual exploitation, and other forms of exploitation, both in and out of the public eye. Sadya worked tirelessly to bring attention to destructive traditions like underage, teenage and constrained marriage, and female mutilation. Sadya also highlighted in her weblog the requirements for feminist's full and equal involvement in political, economic, and public grounds and equitable possibilities for leadership roles of judgment.
Her words of motivation!
Sadya encourages every girl and woman to remember that they are the sole masters of their minds and lives and that they should not allow anybody to write the rules of their lives. She encourages the youngsters that "don't ever let someone crush your aspirations, yet always pursue your intuition. Sadya supports women intuition as a powerful and honest tool to fight against any violation. She ended by saying, "We live in an increasingly competitive world where it takes hard work and determination to succeed, so we must make sure we stand out every day."She accepts that it is alright if you don't have every one of your inquiries addressed immediately. It's OK to have snapshots of uncertainty; however, what is unsuitable is to surrender. Subsequently, these words could be the game-changer of upcoming days.