The student who celebrated her 16th Birthday at the "Thayi Mane Orphanage" is on a mission to provide free Cloth Hygenic Sanitary Napkins to the girls.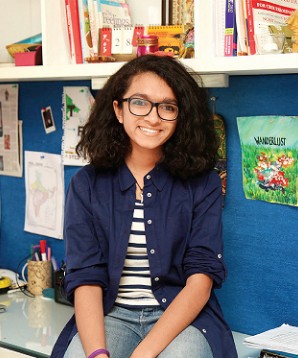 The school goers of today are unimaginably thinking of taking upon themselves and coming out with extraordinary initiatives to be the change. Here is a Bengaluru girl Sanjana Dixit, a class X student who has always been extending her support or help the needy. She was exposed to social issues at a very young age and she used to tag along with her mother and the pics are strongly etched in her memory and has made a big impact on her. They continued to bring cheer and smiles on the faces with their visits and small contributions.
Sanjana was celebrating her 16th birthday at the "Thayi Mane Orphanage" and when she went to use the washroom, she was curious to know how these girls handled their menstrual cycle. Could they afford Pads? Do they know that using cloth is unhygienic if not washed and dried well? Is there any way she could broach the subject with the authorities and in what way she could help.When they returned home, she discussed this sensitive issue with her family who were more than happy to work around her idea.

Sanjana felt the immediate need and the urge to move further and thought it is best to strike while the iron is hot or otherwise her interest may fade away as time passed by. It is the cloth hygienic sanitary pads is what she is propagating and its advantages.
Despite knowing it's not the right time because of the upcoming boards, she set aside some time. Walking from classroom to classroom, explaining her purpose and the urgency she got across her point and was rather taken a back when there was more support from the boys for this great small initiative. This is a clear message that the boys are co-operating to making the change in the society and its wonderful news. Before she could bat an eyelid, she had enough funds to place an order for 500 pads and this particular brand had not enough in stock. A doctor friend helped them find and they were soon armed with a bundle of pads to be delivered to the orphanage.
Today a small group of girls are benefitting but Sanjana is ambitious and wants to carry on her good work by reaching out to more orphanages who deserve this little bit of comfort. It is a continuous and ongoing process and she will have to find ways and means to have this regular cash flow. Working towards such an important and a good cause never goes unnoticed and there are thousands who are surely waiting to contribute.
CLICK HERE TO DONATE ORPHANAGE : http://www.thayimane.org/help.html