Her childhood experience urged her to take up higher education issues for girl child in Orissa.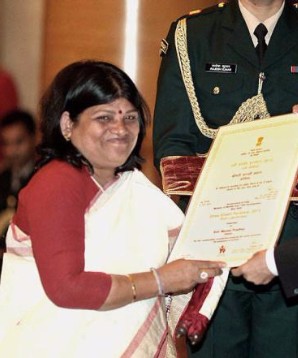 Her own childhood experience.
Higher education for girls in her village was unheard of and even for her to continue after middle school was a No from her parents. That was the norm followed for years that higher education was not important for girls in villages and towns across Orissa. Her farmer father could ill afford it, but Manasi at any cost wanted to go ahead. Apart from the money and the safety point of view; she had to deal with the tough commute of more than 10 kms each way by busses to the nearest school in the region...
Moved to Puri.
Once she was done with her High school; parents despite all ods were forced to move to Puri for her graduation. Father's meager income didn't change but his perspective certainly changed about the girl child. Manasi was the eldest of the three siblings and felt their education too was equally important. She decided to take up a job which helped and she was able to graduate in Economics from Government Women's College. She later finished her masters in Odia literature.
A rude Shock
She was always interested in social and legal matters and thought an LLB degree will equip her better and enrolled herself. While in her 2nd year, was in for a rude shock when her mother was diagnosed with cancer. Though she couldn't easily come to terms with the loss; she decided to take the complete responsibility of her siblings too and says she has come out tougher.
Being an entrepreneur.
Quit her lucrative jobs with the Andhra Bank and Finance Department with the government just to follow her entrepreneur streak. At 21 with her savings, help from friends and family started a literary newspaper which flourished probably overnight.
Burning desire since her childhood
.
She had seen and done it all but the burning desire about the higher education for the Girl child was haunting her all along. Wasted no more time and in 1987 formed an NGO OYSS with the primary and initial motive to encourage and provide higher education. Today OYSS apart from higher education, boasts of organising leadership workshops, vocational training, awareness and women's rights issues, self-defence etc., Further on in 2009 launched a nation –wide movement "Honour for Women" to fight for the menace of violence against women and putting a ban on liquor. Hundreds of women today, walk with their heads high with dignity.
Much deserved Award

.
She is happy that the government has recognised and awarded the Stree Shakti Puraskar in 2013 by the former President Mr Pranab Mukherjee. However, getting certain permissions from the government which was a happening at a snail's pace is also improving and changing.
Bookofachievers.com is proud of this courageous woman for making a difference in the lives of so many women.
Read more : https://en.wikipedia.org/wiki/Manasi_Pradhan