Gloria Benny left Google to encourage the minds of children in India.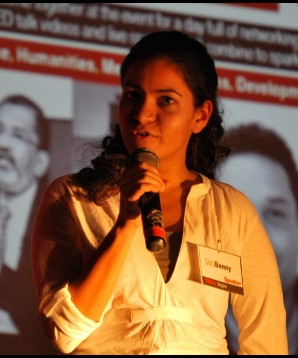 Gloria Benny is an exceptional woman. During her childhood and youth, she was educated in Saudi Arabia enjoying a safe and secure environment. She later entered the University of Cochin where she discovered a very different world. The university was a place for self-improvement, but the history of the people she met in the city was very different. In 2003 during a visit to an orphanage, Gloria and her companions understood that society suffers from poverty because people do not have the tools to get out of it. The solution? For Gloria, the answer was to provide opportunities for children through education. However, the proposal that came up was definitely innovative.
Make a Difference
Gloria Benny and her friends Jithin Nedumala, Sujith Varkey, Kavin KK, Santosh Babu and Jithin John Varghese were determined to give some of their knowledge to the children of Cochin. But it was not enough to disseminate general knowledge, but it was a question of teaching specific knowledge that would allow them to carry out a special job. Indeed, Gloria and her classmates had knowledge that went beyond their university careers. Especially English language proficiency. And that would be Make a Difference (MAD)'s the approach: Teaching a second language to poor children living in orphanages and shelters. The next step was to recruit university students to join the initiative.
The genius of Make a Difference is that the educators are part of a volunteer and the children are in shelters. So there was no need to invest in trained staff or buildings. The resources required were pencils and notebooks, the rest the volunteers would do.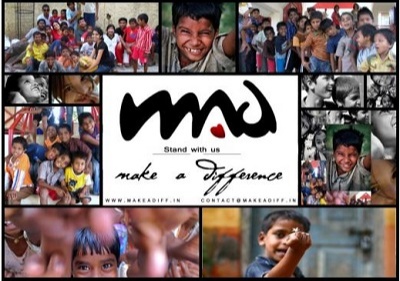 In the beginning, MAD stumbled upon the scepticism of the NGOs: "They felt that we were too young to make a real impact. This ended up driving us and we worked even harder to prove them wrong," Gloria says. What the NGOs didn't have was the perseverance of these young entrepreneurs and Gloria Benny's love for children. MAD was founded in 2006 and in 2008 won the Ashoka Staples Youth Social Entrepreneur Award. The strength of MAD's youth is their perseverance and tenacity. Subsequently, the exponential growth of MAD led the organization to start hiring staff in 2010. Today, MAD's headquarters are in Bangalore.
From Google to MAD full time:
Gloria Benny graduated from Cochin University and immediately joined Google. The new work led her to settle in Hyderabad and with her travelled the initiative MAD. Gloria recruited university students from Hyderabad and undertook the task of educating the children of reception centres in learning of communicational English.
Over the next five years, she worked at Google and, together with her colleagues, consolidated the network of MAD volunteers in Cochin and Hyderabad. However, MAD's exponential growth led her to give up Google and dedicate herself fully to the growth of the initiative to teach communicational English to poor children throughout India.
The Great Challenges of MAD
The initial scepticism about MAD's potential for success was not limited to NGOs. Many people felt that educating children in shelters was a waste of time. Sceptics said that these children had no expectations or constancy, so teaching them a language would be a failure. Gloria and the MAD team were confident that their initiative would change the lives of many children and they moved on.
The experience with the children in the shelters was very hard. Many of the children suffered abuse and mistreatment in the streets that made them distrustful of people and studies. Others child kept the child's illusion and desire to feel safe. In this universe of children with such different experiences, MAD volunteers worked with enthusiasm and sometimes with sadness. With pain, Gloria and her team had to recognize that there would be occasions when the children would leave the program to return to the streets. Even so, the MAD volunteers went on. In 2019 MAD has offices in 23 cities, serves 67 foster homes and has 3000 volunteer teachers.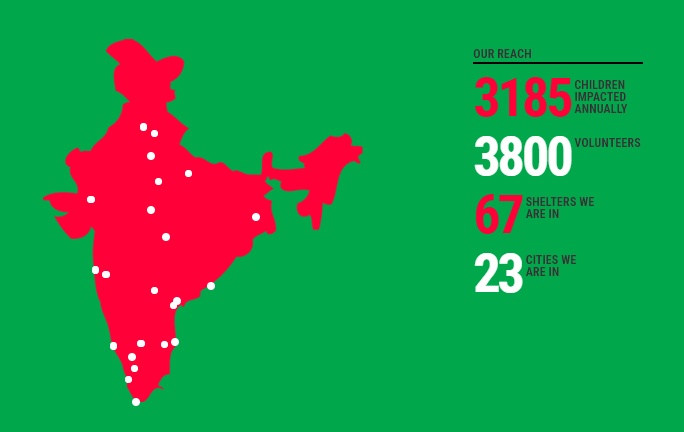 MAD Builds Indian Society Values
The volunteers that makeup MAD are mainly young people. They are recruited through calls that take place in the cities where MAD has offices. Volunteers experience the satisfaction of serving society and growing as individuals through enriching encounters. One of the thousands of volunteers stated: "A day vividly etched in my memory is the first Fund Raising event that I was a part of. We had organized a photography workshop called 'Linsanity' where we raised about 1 lakh of profits. I remember how Gloria introduced me to someone during the course of the event; she called me as the 'Hospitality Head' and went on to describe how I had managed to create a beautiful experience for all participants. I was someone who suffered from low self-confidence and had never thought of myself in the positive light of how she described me."
MAD is a meeting point between India's entrepreneurial youth and the next generation. The nexus established between volunteers and children in the shelters opens the doors to a new vision of Indian society. A society that is integrated every day by the work of exceptional people like Gloria Benny and her team.
Today it is said that Gloria has thousands of children all over India. These children are the young children who are educated under MAD's programs and also the young volunteers. MAD's growth brought it international fame to such an extent that US First Lady Michele Obama visited them during their India tour and they were called upon as part of the launch of the Queen's Young Leaders Trust via the first ever Royal Google+ Hangout in 2014.