Meet the plus size model who is overcoming the negativity around body shaming.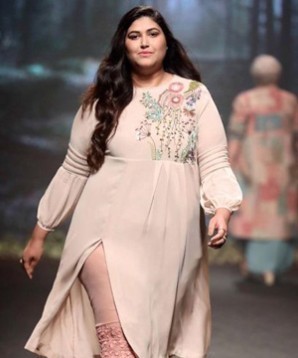 Size, shape, colour, height have always been the biggest deciding factors ever for any person. Leaving behind the abilities of a person, it's always the physical attributes that take the spotlight. Plus size has never been "hot and beautiful". While most of the plus size people are addressed as "cute teddybear", they are never considered to be the "perfect" definition of beauty. "Beautiful means being slim and in shape. Curves are ugly to see and are awkward". But how long is this? How long shall people be judged based on their size and skin? Though baby steps have started against body shaming, there are still countless people, almost everyone I should say, who often listen to comments about their body. Comic shows are being purely based on body shaming. Is it really necessary to make people laugh by commenting on their appearance? Is that even humour? While there are many such questions people ask every day, Neha Parulkar started coming up with answers not with her voice but with her body. Yes, Neha Parulkar who is in complete admiration with her curvy body is showing others how to be body positive. She has become the plus size model and proved that modelling need not necessarily run behind zero-size beauty. Let's get into the story of this body-positivity influencer who has been rocking the ramp for years now.
Losing Self-charm but Not Self-esteem
Neha Parulkar hailed from Mumbai and ever since her childhood, she has been interested in sports. She also represented her school in sports like badminton and swimming. She always was healthy and chubby. This very fact couldn't be digested by the people around. She is "overweight" and that's not acceptable. She says that she was never liked for her looks, ever in college too. Another factor that always pricked Neha as a child that she could never wear what she wanted to. Back then, there were no brands that sold outfits for plus size people. She wanted to wear jeans, T-shirts, gym suits and night wear. As there were no available stores or brands that cater to her size, she had to wear only the stitched dresses. This drilled her from deep. Neha had faced severe peer pressure wherein she was never admired for what she was but was centred only for her growing weight. She did all that she could do. Dieting, gymming and what not! This continuous stress on attaining the "perfect" shape effected her studies badly. She kept losing her flair for studies and sports having always lost in the thought of losing weight.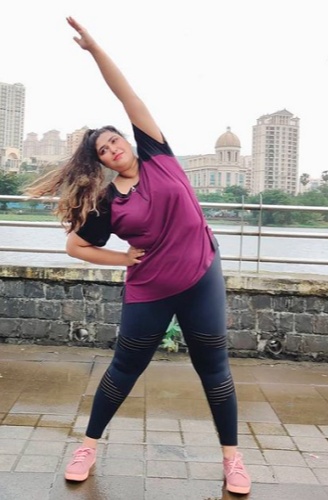 The Moment Of Self-realization:
After continuing this weight loss journey that ruined all her other vital skills, she decided that it was all enough. She says that she didn't feel happy, for, whatever she did, she did it for other people's validation, not because she wanted to.
"After a point I realized if I lose 10 kg, after a while they will ask me to lose 10 more. Where is the end to expectations and where am I in all of this? Am I happy losing weight, not eating and not concentrating on studies? So I realized the fact that I was doing something not because I wanted to do it but because someone else wanted me to."
Neha, infact, a new Neha was born. She started standing up for herself by building confidence and courage to decently tell people not to make fun of her body. Not that she became lethargic about self care, she took the best care of herself and her health.
Embracing Her Love For Fashion:
Once Neha accepted what she is, once she developed confidence in her own body and started admiring it, she wanted to get back to the love for fashion she always had in her ever since her childhood. She stopped worrying about what she can and cannot wear, kicked off all the fears and tried new outfits that she always kept aside owing to her curvy body.
"It's a process, it takes years to be comfortable in your skin because something can just happen tomorrow and you are back to the square one. It took me years to come to this place today, where I am very indifferent. I have created this bubble around me so that no negativity can penetrate.", she says with a confident tone.
Modelling - Her All-time Favourite:
Neha, who wanted to become a model incidentally met with her dream one day in 2016, when she was shopping at ALL. One of the marketing executives approached Neha asking her to participate in a model hunt. Neha e-mailed a few clicks to him and she received a call the very next day for an audition that had around 150-200 plus-size models from across the nation. Eureka! Neha was shortlisted and was all set to hit the ramp of the Lakme Fashion Week who have organised the Plus size fashion show for the first time ever in India. And Boom! Neha rocked the ramp and stood as the winner! "When India had its very own fashion show featuring plus-sized models, I was part of 10 plus-size models (men and women) who walked for the very first plus-size fashion show held in the country.", she says. Neha, who manages PR at an MNC, says that her job feeds her pockets while modelling feeds her soul.
Challenges? Oh, Too Many:
The biggest challenge according to Neha is the society itself. "When I told people I am a plus-size model, they did not believe me, because their mind had been conditioned to believe that models look a certain way—thin and gorgeous.", she says.
She says that this society cannot digest the idea of a big woman modelling and influencing. Brands, whose size chart had a maximum of XXL never worked with plus size models and this is why agencies never got associated with plus size models to avoid risk. "Even today, a lot of brands have a very limited size chart. Slimmer women are always preferred first for a collaboration or a modelling assignment before a plus-sized model.", She says. The biggest challenge that plus size people face everyday is to convince this society that they are equally talented, fierce, hardworking and beautiful like any other normal-sized person and Neha is no exclusion. "All we need is an opportunity to grow!", she affirms.
One more challenge that plus size models face comes in the form of dealings with the brands. This is utterly painful. Models are approached for work and are expected to work for free. "It's like they make us feel that we should be thankful for being considered or given an opportunity to work. Even though we work hard for it, they make us feel like it's a favour!"
Another challenge was dealing with the criticism on social media. She says that the virtual world is so mean that doesn't care about human emotions. People comment, pass hate statements, judge and express opinions, bully and take pride in slut shaming others. "Haters know they have the power to do that and they profoundly do it.", she says.
Dealing With Negativity:
Neha, though embraced self-love, also gets affected by negativity many times. Though she has built a strong bubble around her to not let negativity shatter her, sometimes she gives in. But she has ways to deal with it and come out of it. She looks back at her journey and reads positive comments she received all through, whenever she feels low. This empowers her back. "Over the years, I have realised that educating a nasty hater behind a fake identity is not going to make a difference. I know how far I have come and no one in the world has that kind of power to mess with my peace and happiness. Today, I just shake it off and move on!", says the bold model.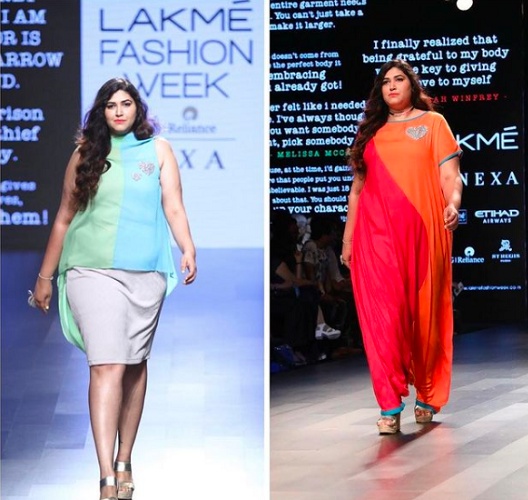 Giving Back To People:
As she never had an influencer or an idol to look up to when she was struggling with self-hatred and low self-esteem that resulted out of her body image and the bullying, she wants to now help people who are sailing on the same boat. She says that it is very important to have a motivation factor to push through life. "If someone is struggling they should know that they are not alone, through my journey, posts, social media I wanted to inspire people and that is what I aimed at being.",she explains.
Neha's Advice:
Neha suggests seeking inspiration or doing whatever makes you happy uplifts your mood. "For example, if I had a very dull day I would rather watch a fun video or read something or see something motivating to uplift myself.", she mentions.
"Not necessarily that you should follow an influencer to feel good about yourself, you can also do anything that makes you happy."
Self-validation and self-love, she says, are more than anything else. She urges everyone to stop seeking validation from random people. She also requests everyone to stop comparing their life with that of those on social media because no one knows their struggles. "It's only one life and people will give opinions whether you ask or not. How you deal with it, how you love yourself is up to you. You cannot stop people from hating or judging you but you can defiantly empower yourself and stand up for yourself.", her powerful words speak.
Struggling with body shaming issues? Follow Neha's advice and discover the new you! Get Set Go!

Follow Her Work

Like and Subscribe to Her Channel For More Updates