Brazilian girl contributed to discover seven asteroids becoming the youngest astronomer in the world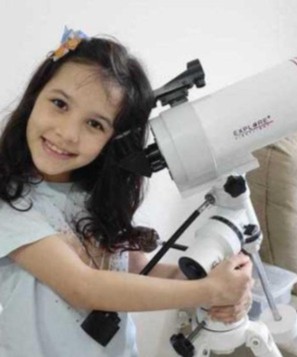 Have you ever thought about what your child is interested in? Have you ever noticed the wishes they express and the kind of gifts they ask for? Sometimes, kids don't just play with and discard the gifts you have given them. They ask for more of them, preserve them, they build upon them, talk more about them – and that's where you can spot their love for something. Encouraging them to know more about what they love, giving them space to articulate their thoughts, guiding them through the waves of ambiguity will lead them towards what they are truly passionate about. Don't rush them off with grades and scores but just watch them embrace what they love, you will get to see their success. That's what Nicole's parents did, and today, they became proud parents to the world's youngest astronomer. Let's get into knowing about Nicole Oliviera, the youngest astronomer who discovered asteroids recently to the amazement of the world.
Fascination For Space:
Nicole Oliviera is seven years old and is from Fortaleza, Brazil. Her parents are Zilma Janacá Oliveira de Lima Semião and Jean Carlo Lessa Semião. She was just two years old when she asked her mother to gift a star and her mother, Zilma Janacá, bought a toy star for little Nicole. It was at that very tender age that Nicole's love for space and astronomy started to germinate. When she turned six, she took part in a course conducted by Centro de Estudos Astronômico de Alagoas (CEAAL). She attended all the classes displaying never-fading enthusiasm since the beginning and finally attended the exam. She cleared the exam conducted by CEAAL and became the youngest to achieve the feat.
The Amazing Feat:
Her passion for astronomy led Nicole to take part in the "Asteroid Hunt" citizen science programme that was run by the International Astronomical Search Collaboration and includes the National Aeronautics and Space Administration (NASA). As a part of this, Oliviera contributed to discover seven asteroids becoming the youngest in the world to do so. She made several preliminary observations in her searches for the asteroids and finally came up with discovering seven of them. She has thus been named as the world's youngest astronomer. The International Astronomical Search Collaboration, on their social media page, mentioned Nicole's achievement and congratulated her. They wrote, "Here is Nicole Oliveira de Lima Semião and her parents, Zilma Janacá Oliveira de Lima Semião and Jean Carlo Lessa Semião, from Fortaleza, Brazil. They participated in the IASC asteroid search campaign sponsored by the Ministry of Science, Technology, & Innovations (Brasilia, DF). Nicole is holding her IASC certificate and a model of the asteroid Bennu. She made many preliminary observations of asteroids in her searches. Congratulations, Nicole!!"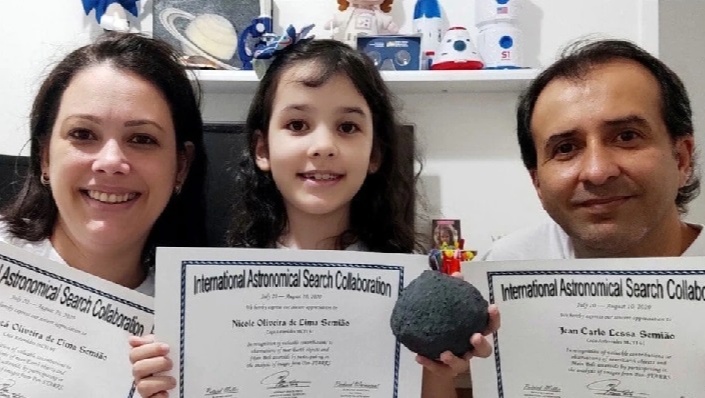 Cheers To The Youngest Astronomer:
When news about Nicole's achievement broke, she was stormed with praises from across the world. The Brazilian Ministry of Science, Technology and Innovation invited this little astronomer to deliver a lecture at the 1st International Seminar on Astronomy and Aeronautics, conducted by the ministry. The invitation came after the Brazilian Ministry knew that she was the youngest member of the Alagoas Astronomical Studies Center, CEAAL. Earlier too, Nicole has given multiple lectures in schools in her hometown. With the wake of the pandemic, Nicole has started her own YouTube channel through which she is sharing her ideas and talks about space, stars, asteroids and other astronomy-related aspects with like-minded people.
Just six years old and Nicole is already telling the world that age doesn't matter. Any number is small if your passion is big. Nicole's love for space is what made her the youngest astronomer today and we are absolutely sure that she would be reaching the skies in years to follow.