Drone boy helped in rescue operation with his self-made drone during Odisha Cyclones.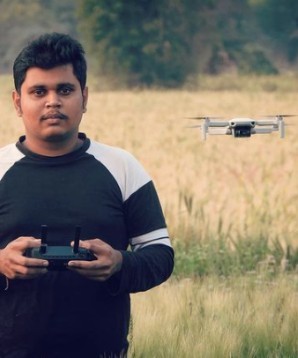 They fly in the air capturing beautiful sceneries, video-graphing places where we cannot reach - beyond the mountains and high above the waters. Just stand where you are not allowed to go beyond and send this little one in the air, you can see what's in there on the other side. Drones - An invention that became close to everyone's hearts in the present days. This small gadget is not only used for the purposes of pleasure but also has millions of other interesting uses. They help manage traffic, transport medicines, food, help in emergencies like floods and earthquakes and the list goes. Amit Lal from Odisha saw this little flying magic in one of the Bollywood movies. From then on he fell in love with the drones, started knowing more about them, their uses, and working. His hobby of knowing about drones took him to a stage where he became a part of the rescue operation during the Odisha floods. He and his drone valiantly supported the rescue teams and that's when he became prominent in his region. When we read about him, we thought we would share his journey with as many as we can, and that's why he is here on our page today. Read along.
Amit Lal hails from Bhubaneswar, Odisha, and has got the fortune of being raised by the most supportive parents. He spent most of his childhood in Balasore. "I belong to a family where all efforts are appreciated, whether successful or not. I have the best-supporting parents one could ever have!", he shared.
"Drones Aren't A Kid's Play!"
Amit Lal watched the Bollywood movie 3 Idiots and got connected to the scene that involved the invention of a drone, a small gadget that can be used for multiple purposes. Ever since then he made it a point that either he would get a drone for himself or build one on his own. His interest grew with age and eventually, he bought a drone from a hobby store. It costed him Rs. 18,000. To the extreme disappointment of Amit, right on the second day of its purchase, the drone stopped flying. He took it back to the store and the storekeeper denied to take the drone back. When Amit tried to get the drone repaired, he said, "Building drones aren't a kid's play!" These words of the storekeeper planted a strong desire in Amit's mind who took it as a challenge. Amit started collecting information about the working and functionality of drones from the internet. There you go, within 50 days, he repaired the drone. (I would rather have wished to see the reaction of the storekeeper first!!)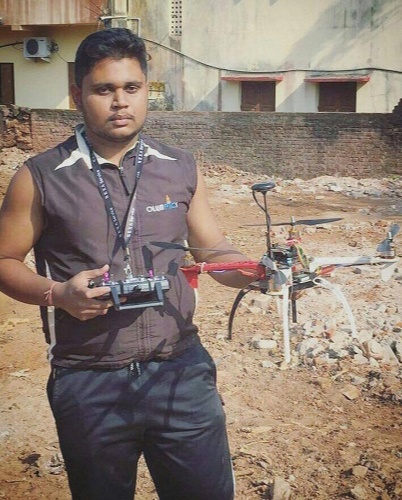 Building A Drone:
Amit Lal's wish to build a drone by himself didn't dissolve after repairing one, it grew multiple times stronger. He watched numerous YouTube videos on the same but said that they don't have sufficient information about building the drones. He mentioned that they often had either insufficient or incorrect information. Amit then decided to work on building his drone by trial and error. He would take damaged flight controllers and electronic speed controllers and repair them out of other broken things and then use them. Eventually, he learnt setting up and assembling the drones, also beyond that. He became so involved with the witty gadget that he made friends with it, talk to it, understand its behaviour, issues it faced, and many others - just like one takes a careful eye on a child or a pet. This connection with the drone made him understand several things like the drone behaviour, the reasons for its instability, and mis-functioning. He finally built his drone and experimented with it several times before ensuring its accuracy and perfection.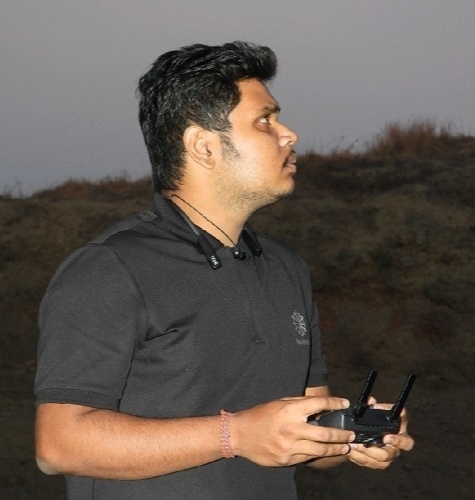 "I just started experimenting inside a cricket box net so that the drone doesn't fly away", he says. This man who likes to make, fly and sell drones also started demonstrating the making, functionality, and uses of drones to school children, young, and adults. In May 2019, when he demonstrated the efficacy of drones in post-disaster damage assessment, his presentation impressed people out there so much that he was invited to be a part of some of the projects too. When Odisha faced its worst cyclones, Amit was there, ready with his drone. He also got his drone stuck to a high-tension wire just after he assisted in rescuing a person. However, he didn't lament for one sole reason that he was able to put his skills to good use in the needy hour. Amit speaks about the importance of drones and says, "They have played and will continue to play a significant role in the present industrial revolution. A drone is a small gadget with a million possibilities. these can help stop crimes, manage traffic, transport medicines, organs, blood, food, and many more. If we adopt the better part of drones, it will only hide the evils behind it. This 21st-century society is a call for technology."
Drone - Exciting And Adventurous:
For Amit, the drone itself is the most exciting part. He says that with just a few parts and simple construction, it works miracles. "Just a combination of a few motors, speed controllers, a processor, a gyroscope, a magnetometer, etc. can do wonders. Never had I thought of that! working on drones makes one do a lot, electrical, mechanical, programming, telecommunication, and transmission, among others." While Amit worked on numerous projects involving drones, the most exciting and fulfilling part of his journey so far was to be a part of the post-disaster damage assessment team in Odisha after cyclone Fani hit the region. With India Flying Labs, where various stakeholders had gathered for working together, Amit's part in the project was unforgettable. "I am blessed to have got a significant exposure there. It was the most enriching learning experience to date where a group of experts was present, and I had a lot to learn from everyone.", mentions the drone hero.
The Drone Man:
Amit Lal, a self-taught drone maker says that he is inspired by Dr. A.P.J Kalam and just like he is called as the Missile Man of India, Amit wants to be called as the Drone Man of India. Amit is already a celebrity star in his region. He wants to promote how well drones can be used for various activities showing people the positive side of the gadget.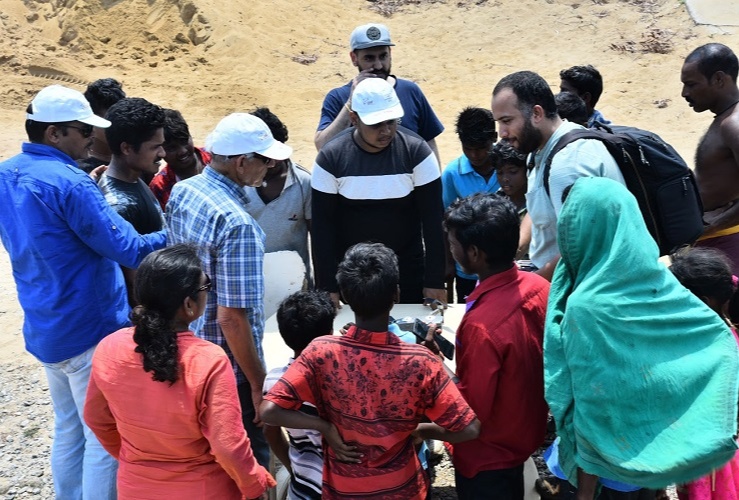 Never Fear To Experiment!
Amit Lal advises the youth to not to be afraid of anything when it comes to embracing their interests. He asks them not to take a backstep when circumstances are not in favour. He also requests parents to encourage and appreciate their child's doings. Success or failure, he urges the parents not to become judgemental. It is only then, he says, that India can develop thinkers. "Millions of budding scientists stop because of a lack of appreciation and support.", he opines.
We wish to see more drones helping humans in dealing with issues effectively and it is possible only with people like Amit Lal coming forward to explain and make everyone comprehend the exact utility of the magical gadget.

Follow His Work